Turbulence, theatre posters and the common cold - Reading in the news Fri 6 Oct
06 October 2017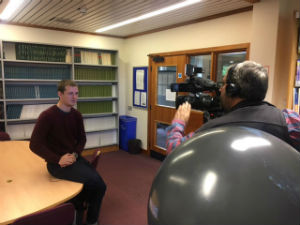 Here is today's media report featuring coverage of the University of Reading.
Air turbulence: A study by the University that shows severe air turbulence is due in the future to rise due to global warming features in the BBC South morning news headlines. The study continues to be featured by media worldwide, and Professor Paul Williams and Luke Storer (Met) are quoted in articles including Fox News, Kasatech News and MSN Singapore. Read our news story here.
Ted Heath history: An inquiry into alleged abuse by former Prime Minister Edward Heath has been covered widely in the news. Dr Mark Shanahan (Politics & IR) spoke to BBC Radio Berkshire (48 mins 54 secs) about his political career.
Poster exhibition: A London National Theatre exhibition showcasing the company's graphic design history through posters advertising past productions, curated by Professor Rick Poynor (Typography & Graphic Communication) is featured by Design Week.
Other coverage
A BBC World Service radio interview with Chris Foye (Real Estate & Planning) on understanding how much space we need at home to make us happy was repeated on Thursday.
The Guardian mentions former Reading virology professor Jeffrey Almond in a feature looking at research on trying to find a cure for the common cold
A photo taken by University of Reading photographer Owen Williams is credited in a Music Week article on Reading Festival being awarded Attitude is Everything's Gold Status for disabled access
Reading's campus card system for paying for services is mentioned in a University Business article exploring how universities are working to offer cashless services on campus
TV and radio interviews: The press office has capabilities to support live television and radio interviews. To find our more, email pressoffice@reading.ac.uk.