Reading goes Wilde with art - Reading in the news Mon 9 Oct
09 October 2017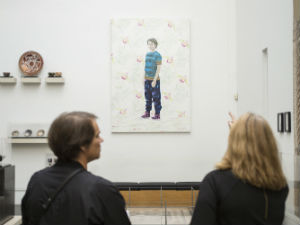 Here is our round-up of media coverage since Friday.
Forest carbon stores: Eco Business website publishes an explanation by Professor Bill Collins (Meteorology) on the implications of a study that suggests forests are not removing carbon dioxide from the atmosphere as effectively as was thought.
Oscar Wilde-inspired art exhibition: BBC Radio Berkshire (10 mins) interviewed Professor Susanne Clausen about Reading International's new art project 'The Critic as Artist' – one of four new projects taking place in Reading town centre. Read our news story.
Air turbulence: A study that reveals how much worse air turbulence is set to become thanks to global warming continues to be covered by media worldwide, including BBC South Today, IFL Science, NYPost.com, WJNT, Mice Times, Gears of Biz and Star2.com. Professor Williams was also a guest on the Paul Hudson Weather Show (9 mins). The story was also reported by BBC Radio Berkshire in its news headlines throughout the latter half of the week. Read our news story.
Mental health lesson world record: The world's biggest mental health lesson, taking place at the Madejski Stadium on Tuesday with Reading academics (Psychology) is previewed by Get Reading.
Sustainable charity projects: Reading graduate and Creating Better Futures charity founder Dorothy Dix spoke to BBC Radio Berkshire (22 mins 45 secs) about a project, supported by the Enactus group of students at the University, that looks to improve education for orphans in Africa, plus helping the many young women who are unable to attend school during their periods.
Other coverage