Catalonian independence speech reaction - Reading in the news Wed 11 Oct
11 October 2017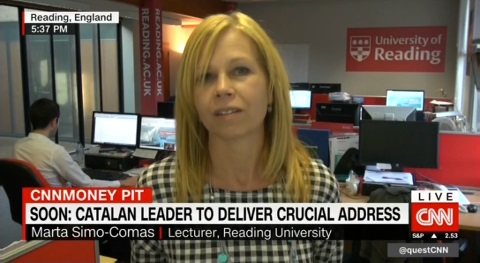 Here is today's round-up of media coverage featuring the University of Reading.
Catalonian independence: CNN interviewed Dr Marta Simo-Comas (Modern Languages and European Studies) before and after the speech by Catalan president Carles Puigdemont following last week's referendum on independence that was declared illegal by the Spanish government.
New marine dinosaur: Further coverage in EurekAlert, New Atlas, Life Sciences World and Westbridgeford Wire of the confirmation of Protoichthyosaurus as a species in its own right thanks in part to dissertation work done by a former Reading student (Ecology and Evolutionary Biology) on the only known baby skeleton in the Cole Museum.
Other coverage
BBC weatherman and Reading export Tomasz Schafernaker's artwork has hit the news this week after it was tweeted by the BBC. His Meteorology studies at Reading are mentioned in articles in the Scottish and Irish Sun
Further worldwide coverage of the Reading study (Meteorology) on increasing air turbulence due to climate change, including in Fleekist (US) and Destinos (Mexico). Read our news story