True extent of women's fight for vote revealed ahead of centenary events
11 October 2017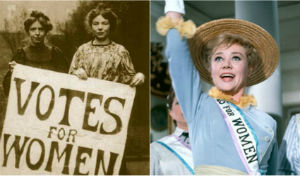 Factions, infighting and even estrangement of family members were additional obstacles faced by women fighting for their right to vote 100 years ago, a leading historian will tell an audience today.
University of Reading historian Dr Jacqui Turner is working with the UK Parliament's Vote100 project to mark the 100th anniversary of the Representation of the People Act 1918, which gave some women over 30 and all men over the age of 21 the right to vote. Dr Turner will present a public lecture to kick off a year of major activities here in Reading to mark the anniversary of women's suffrage next year and contribute to the summer exhibition in Westminster Hall.
Dr Turner's 'Suffrage and Citizenship' lecture this evening (Wednesday 11 October) will explore how women had to fight more than just Parliament to achieve voting rights. She will explain how differing opinions on protesting methods led to clashes between suffrage supporters and even within the family of one of the most famous campaigners –the Pankhursts.
"Suffrage remained divisive to the bitter end" - Dr Jacqui Turner, University of Reading
Dr Turner said: "It is easy to assume that the fight for women's suffrage was an inclusive, cohesive, supportive and empathetic movement – but it was not. It was one of the longest, most divisive and fractious political campaigns of the modern period.
"It was fractious in the public response to the demand for women's votes and within its ranks it was riven with division about how the franchise might be achieved. Suffrage remained divisive to the bitter end."
Soft image, violent reality
The step towards equality achieved in 1918 followed several decades of protesting by women, outraged that their views were not recognised by the government.
Representations of suffrage campaigners in popular culture, such as Mrs Banks in the Disney film Mary Poppins, portray a soft image of protesters who wore sashes and attended meetings before returning home to their families. In fact, frustration over these peaceful methods of protest employed by the National Union of Women's Suffrage Societies (NUWSS) under the leadership of Millicent Fawcett led to the founding of the Women's Social and Political Union (WSPU) by Emmeline Pankhurst in 1903 whose motto was Deeds Not Words.
Members of the WSPU placed bombs in post boxes and held violent protests. Many protesters didn't return home afterwards at all as they were thrown in prison, where many went on hunger strike and were force fed. It also brought opposition from other women protesters, such as Suffragists, who were fighting for the same cause but preferred peaceful methods.
Centenary events
Dr Turner's lecture precedes a number of events led by Parliament, such as a national 'EqualiTeas' initiative whereby members of the public will be encouraged to hold tea parties and discuss and celebrate their right to vote. Other anniversaries will also be marked by Parliament, including vote100 to commemorate the 1918 Parliament Act. Dr Turner will also highlight the little known Parliament (Qualification of Women) Act of the same year which gave women over 21 the right to stand for election as an MP – even if they were not old enough to vote for themselves.
Further celebrations are planned in 2019 to mark 100 years since Nancy Astor became the first female MP to take her seat in the Commons. The University of Reading holds private and political papers that belonged to Nancy Astor and Dr Turner will manage to astor100 programme.
Dr Turner will be taking part in a Reddit Ask Historians AMA before Wednesday's lecture, in which she will answer questions from Reddit users and discuss aspects of the suffrage movement and Vote100 events. The AMA sill start at 5pm at https://www.reddit.com/r/AskHistorians/