Ophelia latest, and why is the sky orange? - Reading in the news Mon 16 Oct
16 October 2017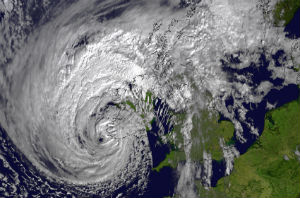 Here is today's media report.
Hurricane Ophelia: The science behind the ex-hurricane which is set to hit the UK today was explained on Sky News, BBC Radio Ulster following a lively listener phone-in (39 mins) and The Breeze radio by Professor Len Shaffrey and Dr Rob Thompson (both Met). Professor Shaffrey was quoted in an article on the Wired Magazine website.
1987 great storm anniversary: BBC Radio 5 Live In Short run an interview with Professor Peter Clark on improvements to weather forecasts since 1987, when the severity of a storm was infamously underestimated by forecasters.
Orange sky: The orange tint to the sky and the sun this morning has been discussed by internet users, leading to press articles including on Wales Online, who interviewed Dr Rob Thompson (Met).
Blueberry study: New research showing blueberries can boost attention levels in children, carried out at the University of Reading (Food and Nutritional Sciences), is covered by The Telegraph, Reading Chronicle and Indian press including Daily Excelsior, News Today and Asian Age, Medical Xpress and True Viral News in the US. Read our news story.
Football predictions: A study showing the tone of tweets can be used to improve predictions of football match results, involving Dr James Reade (Economics), was covered extensively by regional media, including the Reading Chronicle, and also by EurekAlert, Gears of Biz, Science News Online and Phys.org. Dr Reade was interviewed on Radio 5 Live (56 mins 10 secs), who tweeted the clip where his young son briefly became the star of the show.
Meteorite near miss: Professor Mike Lockwood (Meteorology) told BBC Radio Berkshire (10 mins) about the meteorite that passed close to Earth last week, explaining it may be a threat to Earth in the years to come.
Other coverage
Image credit: Met Office