New book explores history of punk culture on anniversary of Sex Pistols album
17 October 2017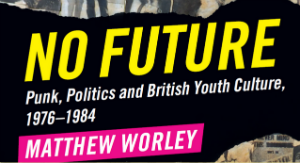 The evolution of punk as a fashion, a musical form and an attitude in 1970s/80s Britain is told in a new book due to be released ahead of the anniversary of one of the genre's most iconic albums.
No Future: Punk, Politics and British Youth Culture, 1976-1984, by University of Reading historian Matthew Worley will be officially launched today at an event in London by publishers Cambridge University Press.
The book comes on the eve of the 40th anniversary of the release of Never Mind the Bollocks, Here's the Sex Pistols, exploring how the music of the Sex Pistols and others inspired awe and outrage in equal measure.
Professor Worley, Professor of Modern History at the University of Reading, said: "Punk exposed the fault-lines that were running through British culture and society as the post-war era gave way to Thatcherism. It embodied an attitude of being active, not passive.
"Having become a teenager in the wake of punk, music by bands like the Sex Pistols fascinated me and drove me to find out more about the issues they referred to. I hope my book will enable people to have a more rounded view of punk cultures and the importance of this period in history."
Punk emerged and evolved as a musical genre from 1976, bringing with it distinctive images and lyrics that re-energised British youth culture.
It was seen to become the soundtrack to social unrest and unemployment and caused by mass unemployment and violent protests by striking miners. Bands such as The Clash, Slits, Buzzcocks and X-Ray Spex inserted politics and marginalised voices into pop.
The book has already received glowing reviews, including this from John Street, author of Music and Politics: "Matthew Worley manages to strike a remarkable balance between vividly evoking punk's raucous rebellion, while also revealing how its aesthetics and politics disrupted the routines of British society. No Future is history as punk, and punk as history."
Professor Worley will be part of a panel discussion and Q&A on the punk era at a launch event at music store Rough Trade East, in London, from 7pm on Tuesday 17 October.
He will be alongside former Crass singer Steve Ignorant, whose new book References reveals the inspiration behind the lyrics he penned during the punk era, and writer and journalist Cathi Unsworth.
The event is free to attend. Guests on the launch night can purchase either book and get them signed by the authors.