Reading among the top five universities for reducing carbon emissions
18 October 2017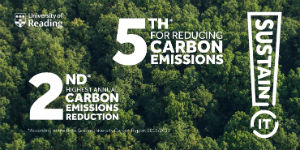 The University of Reading has been named in the top five universities in England for reducing its carbon emissions.
The latest University Carbon Report 2015/16, published by sustainability consultants Brite Green, ranked Reading:
5th overall for largest reduction in carbon emissions since 2005
2nd for annual carbon reductions in 2015/16
2nd greatest reduction in carbon emissions per £ income since 2005
In 2010, the Higher Education Funding Council for England (Hefce) set the sector a target of reducing its carbon emissions by 43% by 2020. The latest report by Brite Green, which analyses 127 universities, found that 59% of universities are projected to miss their 2020 emissions target. Reading is among the 32% of universities that is on track to exceed the 2020 target.
In December 2016, the University of Reading met its own internal target of reducing its carbon emissions by 35% compared to a 2008/09 baseline, delivering 63,000 tCO2 and £17.1 million in cumulative savings.
The savings were made from initiatives driven by the University's Sustainability Services team across seven key areas, including: the installation of energy efficient lighting; better heating, cooling and insulation; improved building management systems; the increased use of energy efficient equipment; raising awareness and changing behaviour across campus; more efficient building design and introducing more environmentally-friendly travel schemes. This also included the University's award-winning programme to improve ventilation to science lab fume cupboards - reducing the carbon emissions of the fume cupboards by over 72% and seeing significant financial savings of around £160,000 per year.
Following the success of the programme, and based on UK Government targets, the University has committed to a further investment of £6.2 million to achieve a new target of 45% carbon reduction by 2020/21. In addition, the University is targeting a 35% reduction in its buildings' water consumption by 2020/21 compared to a 2011/12 baseline.
Professor Robert Van de Noort, Pro-Vice-Chancellor (Academic Planning and Resource), University of Reading, said: "The University of Reading is a leader in climate change research, so demonstrating our commitment to reducing our own environmental impacts is important to us. We are proud to be among the top five universities in England for reducing carbon emissions. We reached our own five year 35% carbon reduction target at the end of last year and will continue to lead the way by working towards a further ambitious target for the coming 5 years."
Dan Fernbank, Energy Manager at the University of Reading, said: "The University has made real strides in reducing its impacts on the local as well as global environment, and we are committed to building on this success. A good mix of support from senior management and the dedication and enthusiasm of staff and students across the University has been integral to our success, ensuring we both lead by example and deliver against our targets. As a dynamic organisation, we ensure our programme evolves with and plans for change, and this will continue to be crucial in achieving our next carbon and water reduction targets by 2021."
The University is currently shortlisted for a prestigious Green Gown award for its achievement in reducing carbon emissions by 35%. The annual Environmental Association for Universities and Colleges Green Gown Awards are a celebration of sustainability achievements across the higher education sector. The winners will be announced in November.
For more details on the University's Sustainability Services, please go to: www.reading.ac.uk/sustainability-services