Orange sky explained and Oscar Wilde legacy - Reading in the news Wed 18 Oct
18 October 2017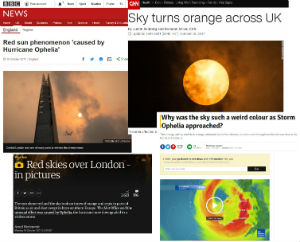 Here is today's round-up of media coverage of the University of Reading.
Oscar Wilde's artistic legacy: A new exhibition by Reading International (Art), celebrating Oscar Wilde's time in Reading before he was imprisoned, was featured on ITV Meridian on Tuesday evening.Read our news story on the four new Reading International projects.
Orange sky: Dr Claire Ryder (Met) was interviewed for news headlines on a rumoured return for the orange sky seen across the UK on Monday. She explained what caused this on Heart Radio and LBC London. Read Dr Ryder's article on the Connecting Research blog.
Blueberries increase reaction times: US broadcaster Fox's Good Day programme features a Reading study (Food and Nutritional Sciences) that shows blueberries can help boost concentration in young people. Other coverage across the world includes German website Fruchthandel Online and Fresh Produce Journal.
Environmental research engagement: Web Wire reports the NERC funding granted to the University of Reading-led OPENER project (GES), seeking to involve the public in research projects from start to finish. Read our news story.
Other coverage
Reading's Professor Wayne Hayes (Chemistry) is speaking at an event looking at self-healing plastics in London later this year, reports Rubber News. Read our news story on Professor Hayes' 2016 research into these materials, and a blog post here
Global coverage of Reading research (Meteorology) projecting a large increase in air turbulence in future decades continues. Yahoo Finance News refers to the study in an article on Canadian airlines' poor punctuality record according to a recent ranking
A report by the University of Reading's Centre for Strategic Studies in Construction and the UK National Contractors Group, referenced in a Who's Who Legal feature, emphasises how important communication is in preventing construction projects going over budget