Being Human Festival reveals hidden stories in Reading
19 October 2017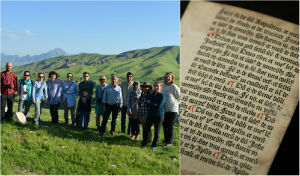 Stories of children evacuated during the Second World War and what life was like in one of the world's first villages will be told as the national Being Human Festival comes to Reading.
The University of Reading is organising a series of thought-provoking and free participatory events for the festival, which this year has an overarching theme of 'Lost and Found'.
Launching on 17 November, the festival highlights the ways in which the humanities can inspire and enrich our everyday lives, as well as help us to understand ourselves, our relationships with others, and the challenges we face in a changing world.
The programme of Reading events are drawn together under the banner of 'Revealing Hidden Stories'. The programme reflects the University of Reading's expertise in arts and humanities research which engages with communities to reclaim and retell hidden or lost narratives.
"The Being Human Festival brings together academics and the local community to explore hidden stories from Reading and beyond" - Dr Rhi Smith, University of Reading
From archaeology to dance
An online exhibition featuring items from the University's Collections will kick off this year's programme. This will include important items from the archives, such as a unique example of 15th-Century printed text by the English printer William Caxton.
The programme continues to run until the 25 November. Award-winning children's author and Reading academic Dr Wendy O'Shea-Meddour will be working with GCSE and A-level students in local libraries to talk about writing diverse stories for children. A participatory dance performance at The Museum of Rural English Life (MERL) led by Reside Dance will explore migration and belonging.
A War Child project at The MERL by Dr Teresa Murjas will feature short films and an exhibition of items from the Evacuee Archive at the museum.
There will be a public lecture on excavation discoveries in Bestansur in Iraq and Sheikh-e Abad in Iran – where some of the earliest examples of farming have been found by Reading archaeologists Professor Roger Matthews and Dr Wendy Matthews. Also featured will be a community art project dedicated to renowned playwright Oscar Wilde, who was imprisoned in the town for being homosexual in the 1890s. This workshop, held in partnership with local charity SupportU, will allow members of the LGBTQ+ community to create a 3D printed flower, which will be included in a larger installation to be displayed in Reading Museum.
Dr Rhi Smith, Director of the Heritage & Creativity Institute for Collections at the University of Reading, said: "The Being Human Festival brings together academics and the local community to explore hidden stories from Reading and beyond. Whether it is engaging in a dance performance, writing a children's story, or creating a 3D printed ceramic flower there will be lots of opportunities to for the public to express their own stories as part of the programme."
This ambitious programme of events has been organised by the Heritage & Creativity Institute for Collections (HCIC) in collaboration with the University of Reading's Museums, Archives, and Collections, ArtLab, Reading: International, Reading Libraries, Reading Museum, Reading Borough Council and Reside Dance.
Book a place at the Being Human Festival at http://beinghumanfestival.org.
Full list of Being Human Festival events taking place at the University of Reading: