Choosing academia and the vision for Reading 2050 – Reading in the news Thurs 19 Oct
19 October 2017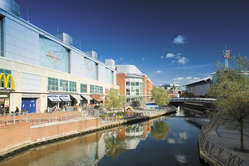 Legal careers: The Times (£) includes an article featuring Dr Beatrice Krebs (Law) describing why she chose a career as a law academic rather than a solicitor, and how her work led to a "genuine moment of legal history" in influencing a Supreme Court ruling on 'joint enterprise' in murder cases.
Reading 2050 vision: The University is part of a project team looking at a vision for the future of Reading in 2050. Prof Tim Dixon (Construction Management and Engineering) spoke to BBC Radio Berkshire at the launch event which took place in Reading last night, highlighting the need for Reading to be greener and smarter. The Reading Chronicle and GetReading also covered the launch, both featuring comments from Prof Dixon.
Blueberries increase reaction times: The Mice Times of Asia covers the study from Reading which found that blueberries can help boost concentration in young people. Read our story here.
Air turbulence set to increase: The Chicago Tribune, Sun Sentinel and Orlando Sentinal report on the Reading study that found air turbulence is set to increase globally due to climate change. The story is also covered by Indonesian news sites Skaana and Okezone.com. Read our story here.
Other coverage: