What VR models tell us about moral dilemmas; and the fight for soil fertility: Reading in the News - 24 October
24 October 2017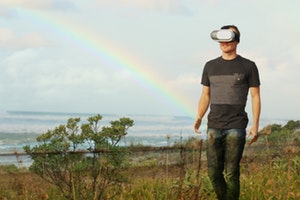 VR tests predicts psychopathic traits in utilitarian action: A new study out today by Dr Kathryn Francis (Psychology) used a virtual-haptic simulation to look at the force in which people would sacrifice one person to save others. The paper, published in Scientific Reports and reported on EurekAlert, was carried out by Francis and members of the University of Plymouth. Read our news story here.
Flavonoids and attention: University Chronicle, Cision and HK01 cover a study of the impact of flavonoid-rich Wild Blueberry drinks on tests for executive function in primary school children. Read our news story here.
Soil fertility: Prof Chris Collins (GES) has commented on a speech made by Defra secretary Michael Gove, reports Horticulture Week. The speech suggested the UK should become a world leader in combatting soil fertility loss.
Other coverage:
An article looking at the risk of deodorants on breast cancer notes research carried out by Prof Philippa Darbre on parabens discovered in breast tumours, in NewsMax.
David Sutton (Library) will be giving a public lecture in Malta as part of Archives Awareness week, reports the Times of Malta.
GetReading cover the announcement that the Shinfield Eastern Relief Road will be opening next week.
<!--[if !supportLists]-->