Hurricanes, air turbulence and flooding - Reading in the news Fri 8 Sep
08 September 2017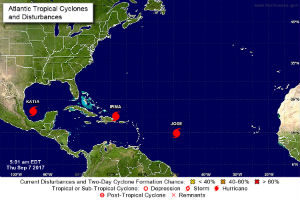 Here is today's round-up of media coverage featuring the University of Reading.
Hurricane Irma: Dr Chris Holloway (Met) was interviewed by BBC News 24, BBC Radio Berkshire (1 hr 11 mins) and BBC Radio 4 PM programme (42 mins) on the latest on Hurricane Irma, which is one of the strongest ever to hit the Atlantic. Dr Holloway was a guest in the Sky News studio on Friday morning to discuss the potential impact of climate change on future storms.
Dr Nick Klingaman (Met) spoke to LBC London radio on the same topic. Clips from the LBC and BBC Berkshire interviews were replayed during news bulletins throughout the evening.
Dr Pete Inness (Met) was interviewed by BBC Radio Scotland (36 mins 30 secs) on Friday morning on how climate change is likely to impact storms in the future.
Written quotes from Dr Holloway and Professor Mike Lockwood are used in articles across the UK and worldwide, including the Independent, London Evening Standard, Bahamas Local, Sputnik News and several Newsquest regional titles.
Air turbulence: A video on MSN.com explains research by Professor Paul Williams (Met), which shows passengers are more likely to encounter air turbulence on flights if they fly earlier in the day. Mail Online refers to Prof Williams' turbulence study in a story on a flight from Perth being aborted due to severe turbulence, while Techsite also runs a feature on clear air turbulence. Read our news story.
Government appointment: The appointment of Professor Robert Van de Noort as Chair of the Thames Regional Flood and Coastal Committee (RFCC) is reported on gov.uk. Read our news story here. Read our news story.
Other coverage
A letter by Emeritus Professor Barry Jones (Politics and International Relations), discussing confusion resulting from the west's current approach to Russia, is published by the Financial Times
The Edge Singapore reports on calls for the regulation of cryptocurrencies like Bitcoin, quoting associate professor Nafis Alam (Henley Business School at UoR Malaysia)
Picture credit: US National Weather Service