Climate change and storms - Reading in the news Mon 11 Sep
11 September 2017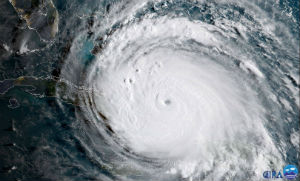 Here is today's media report featuring coverage of the University of Reading.
Hurricane Irma: Professor Nigel Arnell (Met) was on an expert panel for Al Jazeera on Friday, discussing the impact of Hurricane Irma and how much of an impact climate change is having. He also spoke live on the news channel earlier in the afternoon.
Dr Chris Holloway (Met) spoke to BBC World Service (4 mins 18 secs) radio on Saturday morning about Hurricane Irma and the devastation it is causing in the US.
Dr Peter Inness (Met) was interviewed by BBC Radio Scotland (12 mins 10 secs) on Saturday morning on whether Hurricane Jose will be as destructive.
Professor Len Shaffrey (Met) spoke to Talk Radio on Sunday afternoon about hurricanes and storm surges.
Professor Richard Allan (Met) spoke to BBC Radio London (7 mins 41 secs) on Monday morning.
Written comments from Prof Allan are included in articles by The Telegraph and tjcnewspaper.com.
Student satisfaction: The Guardian reports that universities are using various methods to improve/maintain student satisfaction. The article quotes University of Reading librarian Julia Munro, who explained the importance of communication of investment in facilities like campus libraries. Read about the investment in the University of Reading's library as well as other buildings on campus through the TRANSFORM 2026 project.
Victorian sensation fiction: Dr Andrew Mangham (English Lit) appeared on the Ask Historians podcast to discuss how Victorian ideas of crime and criminality are still evident in today's fiction.
Brexit impact: EU students may face tougher entry requirements after Brexit, reports The Pie News. University of Reading Pro Vice-Chancellor for Global Engagement Vincenzo Raimo is quoted on the challenges faced by universities.
Other coverage
Picture credit: Geocolor image of Hurrciane Irma (2017) NASA