Henley Business School to deliver degree programmes for the British Army
15 September 2017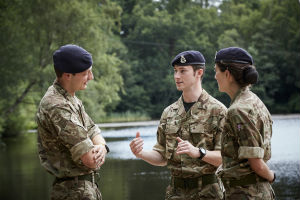 The British Army has today announced a partnership with Henley Business School and the University of Reading, to design and contribute to the delivery of degree programmes for selected Army Officers beginning their career at the world-renowned Royal Military Academy Sandhurst.
From September 2017, selected officer cadets completing the Commissioning Course at Sandhurst will be able to begin studying towards a Bachelor's or Master's degree in Leadership and Strategic studies, specially designed by Henley Business School and the School of Politics, Economics and International Relations at the University of Reading. These degrees recognise the demanding development in leadership, management and strategic studies that all Officers receive in the early years of their Army careers and, extend this to achieve the necessary credits for a formal academic qualification.
For those that apply and are selected, study will commence during the Commissioning Course at Sandhurst and continue throughout the early stages of the officer's career. The course will build on the demanding and complex army training and develop the cadets' critical thinking and analytical skills to support them in their role as agile future leaders. They will develop new and existing skillsets including the adaptability and creativity to think through responses to novel situations, especially in unfamiliar environments and changing contexts.
CDS Defence Support, experts in digital learning, are collaborating with the partnership to create a flexible and innovative programme which will be taught through face-to-face and online study including interactive sessions, virtual environments and independent study. Officers can work towards their qualifications during training, at regimental duty and overseas on operations. The interactive and digital content takes into account the geographic spread of officers throughout their careers and embraces the future of digital learning with a state of the art online training portal and e-learning app.
Major General Paul Nanson, Commandant Sandhurst and Director Leadership for the British Army said:
"The Army continuously reviews and modernises our training and education to ensure our people have the right skills to deliver the Army's current and future objectives. The Army Higher Education Pathway provides the opportunity for new Officer Cadets to complete a recognised a BSc or MSc in Leadership and Strategic Studies through our partnership with the University of Reading and Henley Business School. The Pathway is an inspiring programme that will strengthen and enhance the British Army's existing excellent through-life career leadership and professional development opportunities."
Dr Claire Collins, Academic Director for the Army Higher Education Pathway at Henley Business School said:
"Studying for the BSc or MSc will provide officers with a strong foundation to build on throughout their army career and equip them for dealing with a variety of scenarios in the field of duty. We pride ourselves in committing to partnerships where we can make a significant contribution to the wider world and this new project is a natural fit for us, working to support the Army's world class reputation of producing future leaders and expert strategists."
Colonel Miles Hayman, Army Individual Development Policy Assistant Head said:
"I'm excited about the new Army Higher Education Pathway and I think that it's a game changer. Our partnership with a top quality academic institution to develop bespoke Bachelor's and Master's degree qualifications, integrated fully with officers' professional career development and workplace activities is a ground-breaking initiative. It has the potential to unlock huge benefits, both for the individuals on the programme and for the Army as a whole."
For more information, please contact the Henley PR Team by email at pr@henley.ac.uk or by phone on 0118 378 7137 or 0118 378 5812