Hurricanes, Cassini, and a new degree programmes for the British Army: Reading in the News - 18 Sept
18 September 2017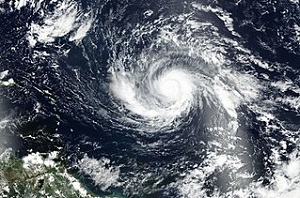 Sandhurst course: Gov.uk covered the announcement of a new initiative at Sandhurst working with the Henley Business School and SPEIR to offer BA and MA courses in Leadership and Strategic Studies. Public Now and Heart Berkshire also covered the announcement, and you can read our news story here.
Ben Nevis dataset: Further coverage of a story about more than 100 years of weather data collected from Ben Nevis, and a project to try to digitally preserve the data. Forbes interviewed Professor Ed Hawkins (Met) about the work. Read our news story here.
Hurricane science: Dr Nick Klingaman (Met) spoke to the Naked Scientists (approx. 18 mins in) programme about why hurricanes are so devastating. In addition, Business Recorder have reproduced an AFP article about climate change and hurricanes which includes comments by Prof Chris Holloway.
Cassini Saturn mission: Further coverage of comments by Professor Mathew Owens (Meteorology) about the Cassini spacecraft which made its final descent into Saturn's atmosphere on Friday. Prof Owens is quoted in The National, Breitbart and the Rappler and other titles.
Overseas study: Yahoo Finance Singapore looks at what students might expect when studying abroad, and mentions UoR Malaysia campus.
Personalised nutrition trial: Coverage of a research trial in Food and Nutritional Sciences which is offering free personalised nutritional reports for participants, in Newsdog and Topix. Read our news story here.
Artichoke benefits: Articles in True Viral News and Your News look at research into the protective benefits of artichoke extract, and mention research conducted at UoR.
Injections boost tree resilience: Dr Glynn Percival is quoted in a Horticulture Week article about the benefits that injections and soil amendments can play in boosting the resilience of trees to pests and diseases.
Design thinking in business: Jon Foster-Pedley (Dean of Henley Africa) looks at how African businesses are increasingly placing design at the centre of their business thinking, in Blaque.
Rare tile find: Further coverage of the discovery of tiles from the reign of Emperor Nero. Prof Mike Fulford (Archaeology) is quoted in the Basingstoke Observer.
Also in the news: