UN and Trump, how Brexit will affect hospitality, and solarstorm watch: Reading in the news - Wed 20 Sept
20 September 2017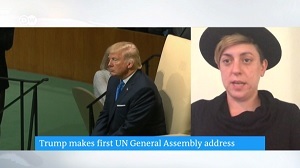 UN and Trump: Professor Rosa Freedman (Law) spoke to Deusche Welle following a speech by US president Donald Trump in which he denounced "rogue nations" including Iran and North Korea.
Hurricane Maria: Dr Chris Holloway (Met) was interviewed by ITV News and BBC Berkshire (approx. 1hr 20 mins), and Professor Richard Allen spoke to BBC 5 Live about the latest Hurricane to affect the Caribbean, following similar storms in recent weeks.
Solarstorm watch: A ITV Meridian story covers calls for volunteers to help with a citizen science project looking at solar storms. The programme, led by Professor Chris Scott (Met) is looking for participants to help identify massive solar eruptions. Read our news story here.
Hospitality and Brexit: Last Sunday, BBC 1's Sunday Politics South interviewed Dr Steve Musson (GES) about whether the decision by the UK to leave the EU will affect numbers of workers in the hospitality industry.
In other news: