Farming tech development gets £4.78m boost
10 April 2018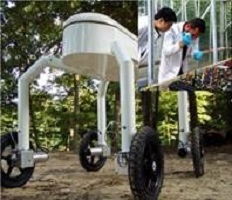 Farmers could get their hands on latest technological advancements sooner thanks to a new partnership launched today, which includes the University of Reading.
The Ceres Agritech Knowledge Exchange Partnership has been awarded £4.78m of funding from the newly established Research England to help develop commercial businesses based on the latest innovations in agriculture technology.
The Ceres Partnership brings together the University of Reading with the universities of Cambridge, Lincoln, East Anglia, and Hertfordshire, as well as the John Innes Centre, Rothamsted Research and NIAB (the National Institute of Agricultural Botany).
Professor Julian Park, Head of Agriculture, Policy and Development at the University of Reading said:
"There are great opportunities for farming associated with the continued emergence of new technologies that can enhance productivity, the environment and welfare standards. However, one of the key challenges is encouraging the uptake of such technologies across the sector
"This latest partnership between the University of Reading and other key agricultural universities will provide a useful platform to help some of the best and brightest innovations in the sector be accessible to those that need it most.
"At the University of Reading, we are excited about the opportunities to bring our latest research to market, such as robotic weed control, agronomy that is more precise, more environmentally friendly ruminant production and healthier food products."

Professor Julian Park, Head of Agriculture, Policy and Development
The Ceres Agritech Knowledge Exchange Partnership aims to bring about a significant change in access to and interest in agritech innovation and to support growth and productivity in the agriculture sector. Ceres will bring together complementary research and commercialisation experience of the five universities and three agricultural research centres. The partnership will also connect the institutions to the support and expertise of commercial partners
Iain Thomas, Head of Life Sciences, Cambridge Enterprise, said:
"The time is ripe for catalysing early stage technology transfer in the globally critical agritech sector. Advances in nutrition, genomics, informatics, artificial intelligence, remote sensing, automation and plant sciences have huge potential in precision agriculture and food production. Farmers, food processors and producers are eager to explore and adopt new technologies to improve their competitiveness and efficiency.
The Ceres funding is part of an investment of £67 million through Research England's Connecting Capability Fund (CCF)* in new collaborative projects to drive forward world-class university commercialisation across the country.
Agriculture at the University of Reading
Established in 1892 with a history of educating the world's agriculturalists, the University of Reading is consistently at the top of league tables for agriculture. We are the highest-ranking UK University for this subject area and ranked sixth in the world (QS World University Rankings by Subject 2018).
Our academics' research influences government policy, innovation and product development, and this expertise feeds directly into their teaching across areas including agri-environment, crop production, and animal, dairy and food chain sciences.
This year (2018), the Centre for Dairy Research (CEDAR), University of Reading has been named an Innovation Centre by LEAF (Linking Environment And Farming), the leading organisation promoting more sustainable farming.
Find out more at: www.reading.ac.uk/agriculture
About the Connecting Capability Fund
Research England's Connecting Capability Fund (CCF) funding of £100 million was allocated from 2017-18 for four years from the science and research budget to the then Higher Education Funding Council for England (HEFCE). From 1 April 2018, CCF has become the responsibility of Research England in UK Research and Innovation. In 2017-18 HEFCE allocated £15 million from the Connecting Capability Fund through a formula linked with main HEIF allocations. Following this a further £85 million is supporting competitive projects, managed by Research England. The total allocated for CCF projects includes an additional £1.4 million from the Research England HEIF programme which has enabled 18 CCF projects in total to be supported. http://www.hefce.ac.uk/pubs/year/2017/201703/.