Atlantic circulation 'slowdown' study hints at future climate disruption
11 April 2018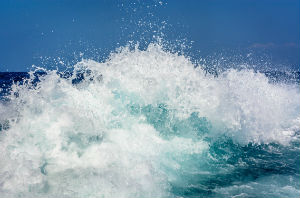 Britain could face stormier weather in the future, according to new research suggesting the Atlantic Ocean circulation is more variable and more sensitive than previously thought.
Comprehensive analysis of new ocean records, contributed to by scientists at the University of Reading, has revealed the circulation of the Atlantic Ocean slowed by 15-20% since the so-called Little Ice Age - a generally cooler period affecting much of the northern hemisphere, which ended in the mid-19th century.
It is thought that melting of ice in the Arctic after the Little Ice Age has contributed to weakening of a key component of the climate system known as the Atlantic Meridional Overturning Circulation (AMOC), which has now reached its weakest point in 1,500 years. With human-caused global warming likely to cause more Arctic melting, scientists fear further disruption could affect weather, sea levels and fish stocks in the future.
"These findings imply North Atlantic circulation is more variable than previously thought, and suggests current climate models may have weaknesses" - Dr Jon Robson, University of Reading
Dr Jon Robson is a National Centre for Atmospheric Science (NCAS) climate modeller in the University of Reading Department of Meteorology, and was a co-author of the study. He said: "These findings imply North Atlantic circulation is more variable than previously thought, and suggests current climate models may have weaknesses in their simulation of the AMOC."
"Given that climate simulations do not appear to capture the events we are reporting, we have to wonder what this means for our ability to predict the Atlantic Ocean circulation as humans continue to change the climate through emissions of carbon dioxide."
Great Ocean Conveyor Belt
AMOC is also known as the 'Great Ocean Conveyor Belt'. As it churns, it sends warm surface water north towards the Arctic, warming western Europe in the process. This water cools and sinks, before travelling all the way down to Antarctica, where it eventually rises to the surface again.
The new study was led by University College London (UCL) and Woods Hole Oceanographic Institution (WHOI) in the US, and was published today in the journal Nature. The scientists argue that Atlantic circulation began to slow around 1850– 50 years earlier than previous studies estimated. This is explained by melting Arctic ice sheets and glaciers increasing the amount of freshwater in the North Atlantic, which does not sink as easily as saltwater.
Dr Delia Oppo, senior scientist with WHOI, said: "Previous studies have suggested that the Atlantic Ocean circulation has weakened since the early 1900s, but observations were largely limited to analysis of evidence from land.
"Our study provides the first comprehensive analysis of ocean-based records, demonstrating that this weakening of the Atlantic's overturning began at the end of the Little Ice Age, a cold period that ended about 160 years ago."
Another new study in the same issue of Nature confirms that AMOC weakening has accelerated since 1950 in response to recent global warming. If it continues to weaken, it could lead to drier summers and stormier winters over the UK and Northern Europe, as well as faster sea level rise along the eastern United States, warming of the Gulf of Maine that adversely affects the fisheries there.
Weather disruption
Dr David Thornalley, a senior lecturer at University College London and lead author of the study, said: "Although it is likely that the 19th Century AMOC weakening was started by natural processes, global warming has also very likely contributed in recent decades.
"What is common to the end of the Little Ice Age and recent global warming is that they were both periods when there was warming and melting. These processes are predicted to continue in the future due to human activity. Our work therefore highlights that we should expect further weakening of the AMOC.
"A dramatic weakening of AMOC could lead to disruption of regional weather patterns in both the US and Europe, an increase in sea level on the US east coast by tens of centimetres, and drought in the African Sahel."