The year without a summer, US air tragedy and THAT museum tweet – Reading in the news Thurs 19 Apr
19 April 2018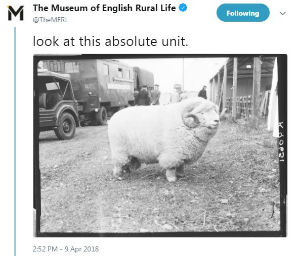 Samuel Beckett Collection: The Beckett Research Centre's creative fellow, author Eimear McBride, was given a tour of the Samuel Beckett Collection by Guy Baxter in Special Collection for The Book Show on Irish radio station RTE Radio 1. Read more about the centre's creative fellowship in our news story.
The year without a summer: A Weather Channel film (approx. 1 min in) on the largest volcano eruption in human history features Dr Nick Klingaman (Met) talking about why this resulted in what is now known as 'The Year Without a Summer'.
US air tragedy: Prof Chris Scott (Met) spoke to BBC Radio Berkshire (approx. 53 mins in) about the unfortunate air incident which saw a woman die on a plane after being partially sucked out of a window - he explained what could have caused the incident.
Climate change report for the UN: Two of the seven Reading academics chosen to help author the next IPCC Climate Change report for the UN, Prof Bill Collins and Dr Nicolas Bellouin (Met), were interviewed on BBC Radio Berkshire (approx. 15 mins in) about their research and involvement. Read our news story here.
The first real estate bubble? Professor Adrian Bell, Head of the ICMA Centre at Henley Business School, appeared on BBC Radio Berkshire (approx. 54 mins in) yesterday to discuss the findings of a research project into the Medieval property market. The research has also been featured by Estate Agent Today. Read the Henley news story here.
MERL's viral meme: PR Week has featured the blog written by MERL's Digital Media Manager Adam Koszary, following the huge success of his 'absolute unit' tweets last week, in its public sector new bulletin. In addition, Adam and MERL Museum curator, Ollie Douglas, spoke to the Georgey Spanswick show which was aired on regional radio stations around the country (approx. 20 mins in).
Artificial intelligence: Dr Nafis Alam (Henley Business School Malaysia) has co-written a blog for The Conversation on five ways artificial intelligence will shape the future of universities. The blog is reproduced on Sci Fi Generation.
Salisbury clean-up: A EuroNews article focuses on the huge clean-up operation that is now taking place in Salisbury following the Novichok poisonings. The article features comment from Prof Laurence Harwood. The article is reproduced on Greenwich Time and LiveLeak.
Medicinal use of cannabis: Prof Gary Stephens spoke to BBC Radio Berkshire (approx. 40 mins in) about CBD oil, which is derived from cannabis, and how his research is proving it can be used to manage the symptoms of epilepsy. The research is also featured on news bulletins. Find out more here.
Other coverage:
Open Access Government features an article of academics from various universities, including Reading, discussing the threat of invasive species to biodiversity, including the biological control of Himalayan balsam.
Reading scientists were involved in a study which looked into what would happen if the Earth's rotation changes direction - Canadian Homesteading covers the research.
Further coverage of the research by Mohammed Al-Mosaiwi (Psychology) which has established a link between language and depression in Mental Floss.