University tackles paper cup waste
19 April 2018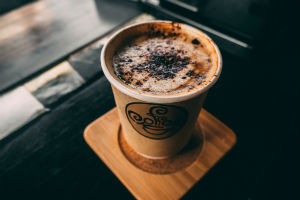 The University of Reading has introduced a new 20p tax on paper cups in an effort to reduce the quantity used on campus.
The tax, which came into effect on Monday 9th April, is designed to help encourage the use of reusable mugs, which are more environmentally friendly.
Last year, almost half a million hot beverages were sold on campus. The University has set itself an ambitious target to recycle 60% of all waste by 2021 and this latest initiative will help to achieve that target.
The profit from this tax will be ring-fenced for future sustainability initiatives within Catering Services.
On the same day, the University also launched its own reusable cup - the Sustain It mug. The mug is available to buy at all University catering outlets, for the price of £3.
The initiative follows the success of the Sustain It bottle, which launched in September 2017 and provided staff and students with a reusable bottle for soft drinks on campus. The University of Reading was the first university in Europe to introduce such a scheme and has already reduced the number of plastic bottles sold on campus by more than 100,000.
Martin Batt, Head of Retail & Hospitality at the University of Reading said: "Students have become more environmentally aware and are looking for universities with ethical and sustainable initiatives. This scheme has been well received by the students currently studying at Reading and we are confident prospective students will feel the same.
"We are committed to reducing waste in all aspects of our business and see this scheme as a huge step forward by not just increasing the recycling rates but reducing the waste being created in the first place."
Paper cup recycling
Alongside efforts to reduce the usage of paper cups, the University has also introduced special bins around campus where paper cups can be recycled.
Paper cups commonly have a plastic lining, which is bonded to the cardboard - this is hard to remove and means that paper cups cannot be recycled along with other paper and cardboard waste.
The University has begun a new trial with its waste contractor, Select Environmental, where the paper cups are sent to a specialist facility in the UK that has the correct technology to separate the card from the plastic for recycling.
In the first month of the trial, staff and students sent 56kg for recycling, which equates to more than 5,000 paper cups. The number of cups collected for recycling is expected to continue to increase as staff and students become more aware that cups can be recycled.
Dan Fernbank, Energy & Sustainability Manager at the University of Reading said: "The plastic content of paper cups has traditionally made them difficult to recycle, so we are pleased to now be able to introduce dedicated recycling points around campus.
"By introducing these new recycling points, alongside the new paper cup tax, we hope to demonstrate how simple individual actions can have a big impact."
In September 2017, all University-managed bars and eateries across the Whiteknights, London Road and Greenlands campuses stopped ordering plastic straws and are currently trialling paper and corn starch straws as alternatives. Earlier this year, Reading University Students' Union (RUSU) also announced it would switch to biodegradable straws following a student-led campaign.
To find out more about the University's sustainability initiatives please visit the Sustainability Services website.