Hottest April day ever recorded in Reading
19 April 2018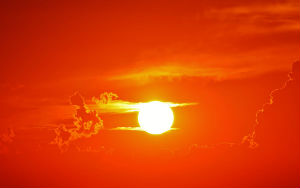 Thursday was the hottest April day ever recorded at the University of Reading's weather station.
Scientists have confirmed the peak temperature of 26.7°C, recorded just before 4.30pm by the automatic weather station, was 0.5°C hotter than the previous record, which has stood for almost 70 years.
The only two other April days in Reading's history to have surpassed 26°C were 16 April 1949 (26.2°C) and 23 April 2011 (26.1°C).
While the observations are only from one weather station, the figures from Reading date back earlier than national records, and often reflect the wider picture across southern England as a whole. Reading also provides data as part of the Met Office's network of national weather stations.
Stephen Burt, from the University of Reading's Department of Meteorology, said: "It is incredible to think that this record-breaking hot day has come barely a month after the Reading Half Marathon, along with several others, was cancelled due to heavy snow. This is just another example of how bizarre the English weather can be."