Two awards recognise the impact of University of Reading and Henley Business School research
20 April 2018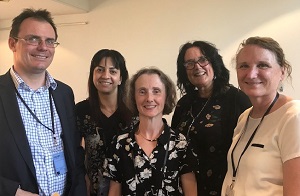 Research to use big data to advance healthcare, and to improve modern foreign language teaching in schools was recognised at the 2018 O2RB Excellence in Impact awards.
Dr Weizi (Vicky) Li from the Henley Business School won an award in this year's ceremony held at St Anne's College, Oxford. The awards recognises and rewards innovative social sciences projects which have made a social or economic difference to individuals, communities, and societies.
In addition, research by Professor Suzanne Graham (pictured, centre) has been highly commended for excellence in impact for her work to improve foreign language teaching in schools. Prof Graham has been working on the Creative Multilingualism project to look at the way in which modern foreign languages are taught and is considering creative alternative approaches.
Prof Suzanne Graham, a Professor of Language and Education at the University of Reading's Institute of Education said:
"I'm thrilled that my work with language learners and teachers over the last decade or more has been recognised in this way. It will be a great boost for my current projects in modern languages classrooms, where colleagues and I are collaborating with amazing practitioners to bring about improved motivation for and attainment in learning another language."
Integrated healthcare information systems
Dr Li's research titled 'Integrated healthcare information system for medical and care quality improvement' has been celebrated for its positive impact on the Chinese healthcare system through developing and implementing a data integration system. This system was developed alongside senior hospital managers in Chinese hospitals, and has improved operational practices, treatment processes and clinical pathways – and thereby benefiting both hospital staff and patients.
The system has now been adopted by over 2000 hospitals, and has led to the first ever Chinese digital health company to be listed on the stock market (SinLdo). The presentation of the award was made by Dr Caroline Kenny, UCL and Social Sciences Advisor at Parliamentary Office of Science and Technology (POST).
Dr Weizi (Vicky) Li, the Deputy Director of the Informatics Research Centre, said:
"The Excellence in Impact Award means a great recognition of myself and my collaborators' efforts to translate our research into action over the years. It is very encouraging for us to produce more high quality research and continues to make a difference to individuals, communities and societies both UK and globally"
Chair of the O2RB Excellence in Impact Awards panel, Professor Mark Pollard (Associate Head of Division (Research), Social Sciences) said:
'The awards have been a fantastic opportunity to celebrate the exceptional impacts on society being made by social scientists from the four partner institutions. The panel have been impressed with the diversity and depth of the projects recognised, and hope that this will inspire even more social scientists to explore what impact might look like for their research, and the ways in which it might be achieved.'
O2RB is a collaboration between the University of Oxford, the University of Reading, The Open University, and Oxford Brookes University. It is designed to build and strengthen regional partnerships for research impact via Oxford's Economic and Social Research Council (ESRC) Impact Acceleration Account (IAA).