A new Cuban president and art reviews - Reading in the news Tue 24 Apr
24 April 2018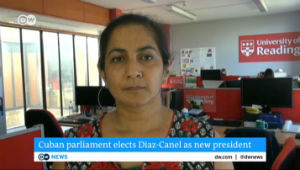 Here is today's media report.
Cuban election: Deutsche Welle interviewed Dr Par Kumaraswami (Modern Languages and European Studies) last week on the election of a new Cuban president.
Blueberries: A BBC News article discusses claims that a diet rich in berries has helped a woman suffering with Alzheimer's to improve her condition. The article links to Reading research (Psychology and Food & Nutritional Sciences) about blueberries and their benefits for memory and learning. Read more about the benefits of blueberries in our news story.
Economists and social media: Times Higher Education features a Reading research project (Economics), which revealed that tweets sent by economists were less engaging than those of celebrity scientists.
Art exhibition: The Reading International show 'reading in Reading', in Reading Central Library and featuring work by Ghislaine Leung, is covered by Contemporary Art Daily.
Art reviews: Artwork by University of Reading academics is featured in a number of exhibition reviews of the Glasgow International festival of art. Professor John Russell (Art) has work mentioned by BBC Online (lead image), the Observer and the Guardian.
Other coverage
Get Reading reported on the arrival of the new royal baby after the Duchess of Cambridge gave birth on Monday, including social media reaction from Professor Kate Williams (History) reminding her followers that his sister Charlotte is the first princess in history not to be moved down the line of succession due to the birth of a prince. Clips from Professor Williams' BBC Radio Berkshire (2 hrs 39 mins 25 secs) interview last week, about speculation over the sex and name of the new arrival, were also replayed.
A BBC Radio Sussex (52 mins) round up of news headlines mentions Reading research (Biological Sciences) on fighting diseases affecting trees in the UK. Read our news story.
Guernsey Press reports that farmers from Kosovo visited Guernsey to learn new methods of dairy farming, in a visit led by Reading's Dr James Hanks (Agriculture).