Reading ranked 32nd in the UK, according to Complete University Guide
27 April 2018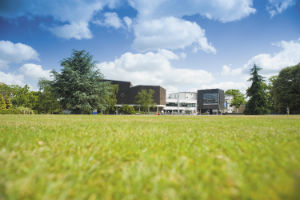 The University of Reading is ranked 32nd in the UK, according to the latest national university league table published today.
The Complete University Guide 2019, which ranks 131 UK universities in total, also ranked Reading as the 6th best university in the South East region. In addition, the University is ranked fourth in the region for Research Quality & Intensity, Academic Services Spend and Degree Completion, and fifth for Student-Staff Ratio and Good Honours.
The University is number one in the country for the study of Land & Property Management for the fourth consecutive year. A total of six subjects are in the Top Ten, including: Land & Property Management (1st), Building (4th), Aural & Oral Sciences (7th), Agriculture & Forestry (8th), Food Science (9th) and Town & Country Planning & Landscape Design (10th). Reading has 32 different subject areas ranked in total.
Furthermore, the University is in the top 25% of universities in the country for the following subjects: Land & Property Management, Building, Accounting and Finance, Business & Management, Education, Law, and Marketing.
Sir David Bell, Vice-Chancellor of the University of Reading, said: "This latest university league table shows once again that the University of Reading is among the top performers in the country. My thanks go to our academic and professional support staff who work hard to make Reading one of the best universities to study in the world.
"Whilst league table results are a good indicator of a university's overall performance, we must remember that they are prone to fluctuation year-on-year. Our focus is on providing our students with a high quality university experience, both now and in the future."
The Complete University Guide is based on ten measures: Student Satisfaction, Research Quality, Research Intensity, Entry Standards, Student: Staff Ratio; Spending on Academic Services; Spending on Student Facilities; Good Honours Degrees; Graduate Prospects and Completion.
The 70 subject tables are based on five measures (Student Satisfaction, Research Quality, Research Intensity, Entry Standards and Graduate Prospects) and include 142 universities, university colleges and specialist higher education institutions.
Earlier this year, Reading was ranked 24th in the Times Higher Education Student Experience Survey 2018. It is also ranked in the top 200 in the world, according to the 2017/18 QS World University Rankings and is 32nd in the UK according to both the Times Higher Education World University Rankings for 2017/18 and the Times and Sunday Times Good University Guide 2018.