Turbulence on the up and a new sculpture comes to campus - Reading in the news Fri 27 Apr
27 April 2018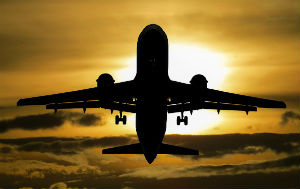 Here is today's media report.
Turbulence increase: Vertical Magazine features Reading research (Meteorology) that shows severe air turbulence will affect more flights worldwide in the future due to climate change. Read our news story.
Communicating economics: An LSE blog by Marina Della Giusta (Economics) explores how economists come across more distant and less engaging on Twitter, compared with scientists.
Sculpture display: Get Reading reports that a sculpture by University of Reading graduate and renowned artist Eric Standford will be displayed at the Ure Museum of Greek Archaeology on Whiteknights Campus.
Blockbuster films: The latest collection of international films to be screened by Reading Film Theatre at the University is featured by Get Reading.
Other coverage
Wired.gov report that a research project led by Professor Donal O'Sullivan (Agriculture) is one of six phase one projects to win funding to enhance sustainable agriculture in Colombia
BBC Radio Suffolk reuses a Radio 4 report on the BBC's new Reminiscence Archive, in which Professor Arlene Astell (Psychology) is interviewed on her research on how sound can unlock old memories
Dr Parastou Donyai (Pharmacy) is quoted in further international coverage of a study linking some medication with dementia. Articles include Devon Live, Graffio Tech in Italy, Prensario in the US and Teen1s in Vietnam