University of Reading launches UN and Global Order programme
27 April 2018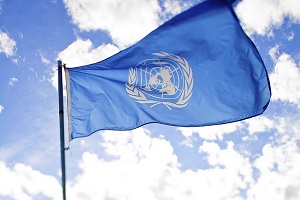 The programme will bring together researchers and policy makers to support and strengthen UN
A new programme to help the UN tackle issues such as child safety following disasters has been launched at the University of Reading.
The Global Order programme was launched with an event attended academics, practitioners, civil society, and students and highlighted ways in which research supports and strengthens UN activities. Human rights, peacekeeping, and UN reform were all discussed and participants looked at ways to identify current and future challenges and opportunities and how researchers and policymakers can work together to maximise the UN's fulfilment of its mandate.
Professor Dominik Zaum, Research Dean for Prosperity and Resilience at the University of Reading said:
"The University of Reading's UN and Global Order Programme will bring together one of the largest groups of researchers in Europe working on different areas of the UN. It will support new and existing collaborations of researchers with policymakers and practitioners from UN organs and agencies, as well as member state governments, to make a substantive difference to the work of the UN."
"We are delighted to have welcomed Ian Martin, with his extensive experience of peacekeeping and political missions, among our key note speakers launching the UNGOP here at the University of Reading. Peacekeeping, and I particular peacekeeping reforms and training, are one of the major focus areas of UNGOP."
Find out more about the UN Global Order Programme at:
https://research.reading.ac.uk/ungop/
Image credit: Sanjit Bakshi, 2011, united nations flag. Accessed at https://www.flickr.com/photos/sanjit/6365386329, CC BY 2.0.