Sports Hall of Fame unveiled at University of Reading SportsPark
30 April 2018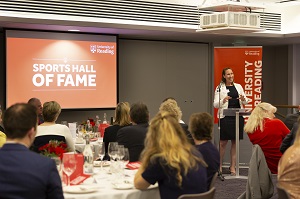 The achievements of some of the University of Reading's most successful sports men and women were celebrated at the opening of its Sports Hall of Fame on Saturday evening [28 April].
The Sports Hall of Fame will celebrate those graduates of the University who have achieved great success in their sport, with many of them representing their country at the Olympic Games and at world championship level.
Each inductee into the Sports Hall of Fame will have a framed plaque on display in the University SportsPark. This will also highlight how the inductees' time at the University helped them realise their sporting potential.
The University of Reading Vice-Chancellor, Sir David Bell, and Sports and Recreation Director, Iain Akhurst, officially opened the Sports Hall of Fame, with Debbie Flood (three-time Olympic rower, pictured) giving the after dinner keynote speech.
The inaugural inductees to the Sports Hall of Fame include:
James Cracknell OBE (BSc Human Geography) – double Olympic gold medallist and World Champion in rowing
Catherine Bishop (PhD Contemporary German Literature) – first ever female British World Champion and Olympic medallist in rowing
Alex Gregory MBE (BSc Geography) – two-time Olympic gold medallist and five World Championships titles in rowing
Debbie Flood (BSc Physiology & Biochemistry) – three-time Olympic rower and first female captain of the Leander Club
Rick Egington (BSc Zoology) – double-Olympic medallist and twice World Champion rower
Beth Morgan (BSc Psychology) – England women's cricket team
Natasha Townsend (BA Fine Art) – two-time Olympic finalist in rowing
Anna Watkins MBE (PhD Mathematics) – double Olympic medallist in rowing
Jonty Clarke (BSc Economics) – represented England and Great Britain in hockey, including at the Olympic Games
Georgina Bevan (BEng Mechanical Engineering) – represented Great Britain in judo
Adam Freeman-Pask (Doctoral studies in Biodiversity) – Olympic rower with numerous World Cup medals
Charles Cousins (BSc Psychology) – represented Great Britain in rowing at the Olympics and World Championships
Claire Taylor MBE (MA Applied Management) - England women's cricket team
William Lucas (BA Politics & International Relations) – Olympic rower
Sam Townsend (BSc Rural Resource Science) – Olympic and World Championship rower
Richard Springham (BA History) - represented England and Great Britain in hockey
<!--[if !supportLists]-->

In addition to celebrating these sporting heroes, the University also unveiled a commemorative plaque for John Nike OBE DL (1935-2016). John Nike was a long-standing friend of the University and a champion of young athletes. In 2009 he founded the John Nike Sports Scholarship, which has supported numerous exceptional athletes in their journeys to represent Great Britain at the Olympic Games.

University of Reading Vice-Chancellor, Sir David Bell, said: "I have a huge amount of respect for these athletes who have worked so hard to achieve such great success in their sporting careers.

"Hearing about the important part that the University of Reading played on their journey to success has been a real pleasure and we are honoured to induct them into our new Sports Hall of Fame."

Iain Akhurst, Sports and Recreation Director at the University of Reading said: "It was with much pride that we launched our Sports Hall of Fame and celebrate the sporting successes of our former students. Our sports facilities located at the heart of our campus, as well as those dedicated to specific sports such as our fantastic Boat Club on the River Thames, make Reading a great place to achieve academic and sporting success. I'm sure we can look forward to many more Sports Hall of Fame inductees in the future."

James Cracknell OBE said: "Sport at Reading was inclusive and an everyday part of university life for its students – whether as a leisure pursuit, representing the University, or working towards even higher aspirations."

Catherine Bishop said: "The University of Reading both encouraged and supported me to strive for academic excellence in my PhD studies at the same time as pursuing Olympic excellence on the water."

Find out more about the Sports Hall of Fame at:
http://www.reading.ac.uk/about/sports-hall-of-fame.aspx