Cyborgs, sports stars, and women in leadership: Reading in the News - 30 April
30 April 2018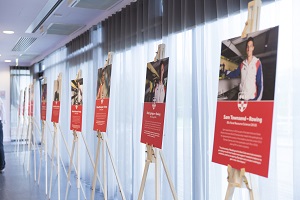 Sports hall of fame: Following the launch of the Sports Hall of Fame on Saturday April 28, BBC Berkshire (approx. 1hr 55 mins in) spoke to Debbie Flood, three-time Olympic rower, first female captain of the Leander Club and a UoR graduate. Read our news story here.
A weekend with cyborgs: Gizmodo reports on a festival exploring 'transhumanism' who look to use technology to 'hack the human body'. The article notes Visiting Professor Kevin Warwick was the first person to have an RFID chip implanted.
Gender leadership gap: Coverage of a report by Dr Shaheena Janjuha-Jivraj from Henley Business School looking at women in leadership across the Commonwealth featured in Civil Service World and the i newspaper. Read Henley's news story about the report here.
Other coverage
Professor Brian Scott-Quinn from Henley Business School is quoted in an article in the FT's Investors Chronicle about digital banking.
BBC Berkshire (approx. 4 mins in) spoke to Dr Peter Lawrence (Psychology) about the use of talking therapy to help 80% of mums with postnatal therapy in an eight year trial.
Computing (£) report on comments by Ryan Kennedy (IT) on the use of 'agile infrastructure' for the University of Reading.
Dr Amanda Callaghan (SBS) is quoted in an article suggesting that the recent UK weather may contribute towards increased numbers of mosquitoes, in GetReading.
NewsHub NZ and GraffioTech quote Prof Kate Williams (History) from a CNN interview about the naming of the new royal baby, Prince Louis.
Dr Steve Musson (Geography) spoke to BBC Berkshire () about the announcement of a merger between Sainsbury's and Asda.
Alg24 report on a study from the University of Reading about the effect of orange juice on cognitive function. Read about a recent paper on orange juice here.
A news story about research on dairy products promoting bone health notes the involvement of UoR, in Infosurhoy.
London Live have re-run an episode of The Truth about… with Dr Gunter Kuhnle (Food) testing the nutritional quality of certain 'superfoods'.
An article for Bharian on the development of Iskandar notes the University of Reading Malaysia campus sited there.
<!--[if !supportLists]-->