How is dry UK summer affecting crops? - Reading in the news Wed 1 Aug
01 August 2018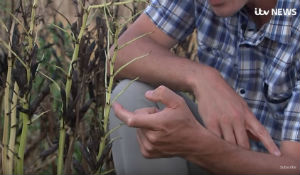 Warming climate and farming: Professor Ed Hawkins (Meteorology) and Professor Donal O'Sullivan (Agriculture) spoke to ITV News for a television piece on this summer's heatwave and how it has impacted crops. Dr Alistair Murdoch (Agriculture) was interviewed for BBC South Today (8 mins 25 secs), along with colleagues Dr Anna Thomson and Professor Donal O'Sullivan, and BBC Radio Berkshire (1 hr 21 mins 20 secs) ahead of a National Farmers Union summit on Wednesday to discuss how the farming sector can adapt to a changing climate.
Professor Bill Collins (Met) spoke to BBC Radio Berkshire (1 hr 24 mins 55 secs) about the Met Office State of the Climate report showing 2017 was the fifth hottest year on record.
Simon Lee, a PhD student in the Department of Meteorology, is credited for a popular tweet comparing the 2018 heatwave with the summer of 1976 in a Media Lens article.
Climate aid spending: Climate Home News quotes Professor Chuks Okereke (GES) in an article on its analysis of Department for International Development data, which showed that showed one tenth of UK climate aid spending since 2011 was channelled through private consultancies.
Flavour science: Channel 4 (1 min 20 secs) Food Unwrapped visited Dr Jane Parker (Food and Nutritional Science) to test the contents of supermarket beef stock cubes.
Other coverage
Dr Heike Schmidt (History) is quoted in further coverage of the Zimbabwe elections, including by News24 and Zimbabwe Situation.
A blog by Reading's Social Media Manager on the viral tweet about the new refugee scholarships, and the public response to it, is published on the Association of Commonwealth Universities website.
Reading analysis of public responses to a hedgehog survey, which revealed they actually prefer to live in homemade shleters, is mentioned in a Mother Nature Network article. Reading's involvement was also mentioned in an interview with Emily Wilson at the British Hedgehog Preservation Society on BBC Radio Devon.
The Breeze FM reported the University's decision to appeal the plans to redevelop St Patrick's Hall to provide improved student accommodation.