Immersive simulations to inspire school children about health careers
08 August 2018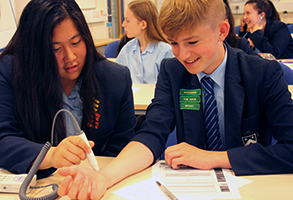 A new project to help school children from all backgrounds to consider healthcare careers will use simulations and interactive experiences including a 3D immersive video tent.
Led by the University of Reading, HealthReach will provide opportunities for school and college students to experience various job roles in health and life sciences. The project will draw on expertise from the Royal Berkshire Hospital and Berkshire Healthcare Foundation Trust as part of wider collaboration to reach children around the Thames Valley and will look to help train and inspire workers in the health workforce for the future.
With funding from Health Education England and the Thames Valley Berkshire Local Enterprise Partnership, a mobile team will be able to visit schools and colleges around the Berkshire region and beyond to inspire young people with a range of experiences and simulations including age simulation suits; and a 'foldaway ambulance' to learn skills such as CPR.
Dr Rachel South, Head of Global Recruitment (UK and Outreach), said:
"HealthReach is an exciting opportunity to take some of the latest technology used in healthcare education out on the road. We recognise that health and life sciences careers are sometimes perceived as being out of reach to some pupils when they look to the future, and so we are excited to provide HealthReach to hopefully inspire young people and give them the necessary tools to access the range of careers open to everyone.
"Taking exciting technology into the classroom will primarily be aimed at primary and secondary school students and will give them the opportunity to engage in interactive healthcare simulation scenarios. They have been carefully designed with education and healthcare professionals to provide experiences that link with educational criteria, introduce healthy values and behaviours and display a range of job roles and careers within health, care and life sciences."
Juliet Anderson, Associate Director for Health Education England Thames Valley, said:
"We are thrilled to be supporting the set up and roll-out of Health Reach across Berkshire and are excited that such a fantastic interaction and learning environment will bring together, in a virtual space, local schools and colleges and allow them to engage in health-related courses.
"The importance of setting up something as unique as Health Reach is that it will continue to raise awareness of the range of roles there are within health, care and life sciences with people of all ages and backgrounds and will align with new draft proposals put forward by the government that health education will become compulsory in schools from 2020."
Katharine Horler, Chair of the Thames Valley Berkshire Local Enterprise Partnership's Skills, Education and Employment Programme, said:
"The LEP continues its commitment to fund a range of interventions that will create a pathway from education to the workplace. Our aim is to also launch projects that support those who are underrepresented in STEAM, from females to older members of the population and ethnic minority groups. We're excited about how HealthReach will deliver interactive, health-related sessions to young people."
The project is currently recruiting a team which will be able to take the HealthReach technology out on the road to schools around the region, with a full launch expected in the autumn of 2018.