A mission to 'touch the sun' - Reading in the news Fri 10 Aug
10 August 2018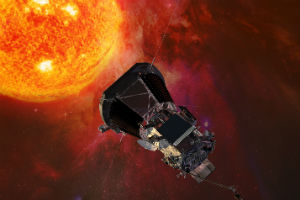 Solar mission: Comments by Professor Mathew Owens (Meteorology) on the Parker Solar Probe, ahead of its launch on Saturday on a mission to enter the Sun's atmosphere, are quoted by the Telegraph and Yahoo News. Read our news story here.
Salt intake: The Mirror quotes Dr Gunter Kuhnle (Food and Nutritional Sciences) on a controversial study that suggests safe salt daily intake could be double what is advised by the NHS.
Visual research: Scientific American quotes Professor Ed Hawkins (Meteorology) on a new colour scale developed by US scientists that can be read by those who are colour blind and therefore allow research visualisations to be more universally accessible. Professor Hawkins has created several high-profile climate visualisations in recent years.
Green Flag Award: The University's eighth successive Green Flag Award for Whiteknights campus is reported by the Reading Chronicle. Read our news story here.
Climate change knowledge: Dr Andrew Ainslie (Agriculture) authors an article in South African publication The Bulletin on how ongoing research is informing decisions by farmers in Africa to help them adapt to climate change.
Other coverage
The Daily Mail again includes a fact box on causes of the heatwave in the UK this summer, based on a Conversation article written by Professor Len Shaffrey (Meteorology), in an article warning we are likely to see extreme temperatures on an annual basis due to climate change.
A Mirror article on the health benefits of yoghurt mentions Reading research that showed children who ate yoghurt daily were at lower risk of heart disease and diabetes later in life.
Image credit: NASA