New form of cancer therapy coming to Reading; plus cars and death stars: Reading in the News - 13 August
13 August 2018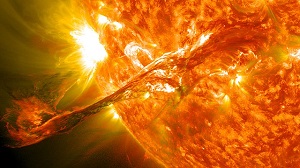 Car thermometers: An article in the Guardian considers whether car thermometers could be used to help with weather forecasting, mentioning a trial conducted by UoR on thermometer readings.
Death Star: BBC Four's The Sky at Night spoke to Prof Chris Scott (Met) about a type of solar flare called a coronal mass ejection, and how one could be disastrous for modern society.
Cancer therapy: A proton beam cancer therapy machine has been installed in a cancer centre at the Thames Valley Science Park, reports GetReading and the Reading Chronicle. Prof Richard Ellis (Agriculture) is quoted.
Other coverage
Plans by UoR to appeal the planning decision on redeveloping St Patricks Hall is covered in the Reading Chronicle.
Daily Mail reports on a story about a fox attacking a 3 year old girl in her home. The article has a side box noting that a joint study including UoR on the number of urban foxes.
Prof Ed Hawkins' (Met) climate stripes has been chosen by Neue Energie as their image of the month and was reproduced in the magazine.
Observer report that UoR graduate Michael Murray, son-in-law of Sports Direct owner Mike Ashley, will be involved in the takeover of House of Fraser. Yahoo Finance and MSN also carry the story.
A Malaysian educational fair is covered by The Star Malaysia, and carries a quote from UoRM Marketing Manager Madeleine Tan.
<!--[if !supportLists]-->

Image credit: NASA Goddard Space Flight Center, 2012, Magnificent CME Erupts on the Sun. Accessed on 13 August 2018 at https://www.flickr.com/photos/24662369@N07/7931831962. CC BY 2.0