Climate stripes make the front page - Reading in the news Thu 23 Aug
23 August 2018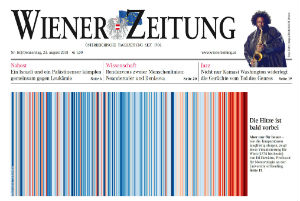 Climate stripes: German newspaper Wiener Zeitung runs a climate stripes graphic, showing global temperature rise since 1850, created by Professor Ed Hawkins (Meteorology) on its front page.
Green and pleasant land: University Business magazine features Henley Business School as its latest campus spotlight.
Zimbabwe political challenge: An article written by Dr Heike Schmidt (History) for The Conversation is republished by Harare24 and Bulawayo.
Neighbourhood plan flaws: Professor Gavin Parker (REP) spoke to BBC Radio Berkshire (51 mins 42 secs) about a report he authored on why neighbourhood plans, introduced by the Government in 2012, are not being implemented properly.
Other coverage
Dr Jon Shonk (Meteorology) authors an article for The Conversation on the challenges facing weather forecasters, and why forecasts are unlikely to ever be 100% accurate.
Dr Tara Pirie (Biological Science) was a guest on the Coffee Club segment on BBC Radio Berkshire (approx 20 mins), where she explained her research on domestic cats.