Warming stripes and the London Zoo annual weigh-in – Reading in the news Tues 28 Aug
28 August 2018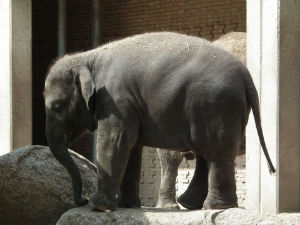 London Zoo annual weigh-in: Dr Tara Pirie (Ecology and Evolutionary Biology), a former zoo keeper, spoke to BBC Radio 5 Live about how monitoring animals' weight can be a good way to make sure they are healthy. The interview was played out on regional radio stations around the country. Dr Pirie wrote a blog for The Conversation on the same topic, which was reproduced by The Independent.
Pests: Radio 4's Farming Today programme was recorded at the University's Sonning Farm. The focus of the programme was on the different types of pests that farmers have to deal with. Dr Robbie Girling (Agri-Environment) discussed how using a process called 'biological control' (using insects to help manage the numbers of other, crop damaging insects) works. PhD student, Tom Staton, was also interviewed on the topic of agro-forestry. The programme was also aired on BBC Devon.
Warming stripes: International media has picked up on Prof Ed Hawkins' warming stripes visualisations of climate change released earlier this year. Australian media has reported on how temperatures in Australia have changed since 1910 - News.com.au, The Herald Sun and The Sydney Morning Herald - whilst Canada's CTV News, The Loop and 24News.ca report on the visualisation for Toronto. Visualisations for central England, USA, Vienna, Germany, as well as global temperatures, can be found here.
The rise of freelancers: HR Magazine covers new research which suggests that up to 50% of workers are expected to turn freelance in the next two years. The piece contains comment from Naeema Pasha (Henley Business School).
Other coverage:
The Economist looks at the trend for universities to set up overseas campuses. The article contains comment from Sam Weston, Head of Pharmacy at University of Reading Malaysia. In addition, StudyMalaysia.com features an article on the costs of studying for a foreign degree in Malaysia - featuring courses from the University of Reading's campus out there.
A new study looking at dinosaur DNA has been published and is picked up by The Daily Mail. The article makes reference to Reading research into why dinosaurs became extinct. Read our news story here.
Sustainability titles, Climate Change - The New Economy and EcoNews, cover a new report looking at the emissions that comes from common plastics. The report also notes research by UoR academics on the role of methane gases on global warming.
The Guardian's coverage of GCSE results day features a Reading College student who hope to come to the university of Reading one day.
Tweets from the University of Reading Art Collections, University of Reading Special Collections and the University's Museum of English Rural Life are mentioned in this Daily Dot article about museums using the hashtag #MusMeme.
An obituary for Bernard Ginsburg in The Times (£) mentions that he studied for his undergraduate degree and PhD here at Reading.
The Sunday Mail, and other Zimbabwean outlets, report that the Zimbabwe Ambassador to Senegal, Ms Trudy Stevenson, died in her sleep last week. The articles note that she did her undergraduate degree at Reading.
The Daily Star, Lifestyle Inquirer and The Citizen report on a study by academics in CeLM at the University of Reading about the benefits of bilingual children speaking a native language at home. Dr Michael Daller (English) is quoted.
An RBS guide on importing for SMEs features comment from Dr Stephan Gerschewski (Henley Business School), who says that the travel costs involved with meeting import partners should be seen as an investment rather than a cost.
PA Life reports on the value that part-time women workers bring to the workplace, making reference to research from Henley Business School on the growing number of people running their own business on the side of their day job.
Herald Scotland covers the news that an ancient clan artefact, dating back 400 years, has been discovered on Islay during the University's excavation at Dunyvaig Castle. Prof Steve Mithen (Archaeology) is quoted in the piece, as is the Reading student who discovered the item.
Norwich Evening News and Eastern Daily Press report on a new exhibition taking place in Norwich celebrating the lives of Lady Eve Balfour, Dorothy Jewson and one hundred years since women got the vote. The articles note that Lady Balfour was one of the first women to graduate in agriculture from the University of Reading.
An article in Spectrum looks at the prevalence of autism in India - a new study has shown the estimate for numbers of children with neurodevelopmental conditions is much higher than previously thought. Prof Bhismadev Chakrabarti (Psychology) ran a study of school children in one Indian city in 2017, and is quoted within this article.
The Scottish Farmer features an article on new funding to develop a new vaccine for foot-and-mouth-disease (FMD). Prof Ian Jones (Biomedical Sciences) is part of the FMD research team and is quoted.
Jamaican site, The Gleaner, reports on a new online course launched by the British Council and co-designed by UoR to help international students prepare to study in the UK.
Indonesian sites, Tribun Manado and Info Terbaru, look at the possibility that a house in Nazareth belonged to Jesus, making reference to research by Dr Ken Dark (Economics) in 2015.
Electronics Weekly looks at ergonomics in industry and mentions a paper by Prof Jeremy Spencer (Food and Nutrition) that was given at an ergonomics conference last year.