'Staying ahead of the game' to combat bird flu - Reading in the news Fri 31 Aug
31 August 2018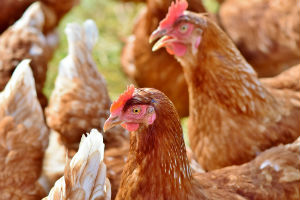 Bid flu risk: Daily Mail and the Express reports on the refusal of China to share a new strain of the bird flu virus with British or US scientists, which it says could put lives at risk. Professor Ian Jones (Biological Sciences) is quoted in the articles on the importance of gathering information on viruses in order to develop vaccines.
UN commissioner legacy: Professor Rosa Freedman (School of Law) was interviewed on EuroNews on the legacy of UN High Commissioner for Human Rights, Zeid Ra'ad al Hussein, who ends his four-year term in the role today.
Rare archaeological discovery: The discovery of a document seal belonging to a clan who inhabited Dunyvaig Castle on the Isle of Islay, Scotland, by a University of Reading student makes the BBC News website. Read our news story.
2028 work and leadership: Business Leader shares findings from Professor Bernd Vogel's (Henley) 2028 research, which looks at the future of work and leadership in 2028. The project was run in collaboration with Deutsche Telekom and Detecon, who commissioned the study. Read the Henley news story.
Climate change visualisation: A round up of the best visual representation of climate change research by Daily Kos includes the climate stripes graphic by Professor Ed Hawkins (Meteorology).
Side hustles: A Forbes opinion piece by a business owner on side hustles – businesses run by people alongside their main job – refers to Henley Business School research showing one in four of us already have a side hustle. Read the Henley news story.
Other coverage
Jon Foster-Pedley, Dean and Director of Henley Business School South Africa, writes a piece for City Press on Theresa May's visit to South Africa, where she promised investment in Africa to create jobs for young people.
A project led by Professor Bernd Vogel at Henley Business School outlining how technology will become integrated in future workforces is featured by Business Leader.
A CNS News article on a report on freedom of conscience in healthcare, by Professor David Oderberg (Philosophy), summarises his arguments on conscientious objections by healthcare professionals who are required to perform procedures, such as abortions, that contradict their beliefs.
Sam FM reports on an homelessness charity initiative which will see people 'sleep rough' in a Caversham school this weekend, including an interview with one of the fundraisers, University of Reading lecturer Adrian Aronsson-Storrier (School of Law).
BBC Radio Dorset featured the thesis of Reading student Clive Evans (Geography), on a human interest segment. Clive quit his job as an accountant to go back ot university and he researched access for the disabled and elderly on public transport in the UK.