GB Rowing Team athletes get training boost thanks to University
10 December 2018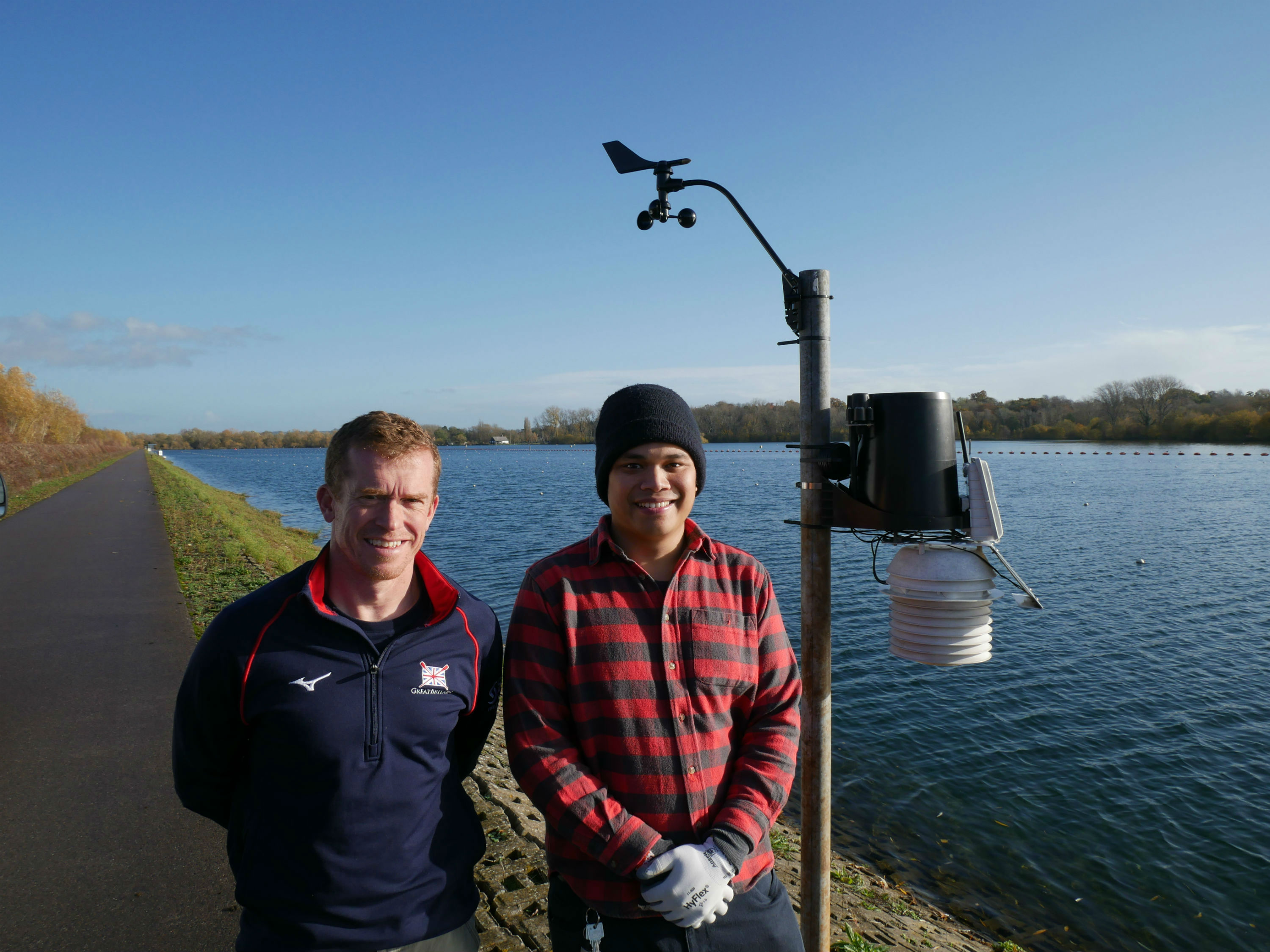 Weather experts at the University of Reading are helping GB Rowing Team athletes get more from their training by allowing them to monitor how weather conditions affect their performance.
The University's Department of Meteorology was contacted by British Rowing after equipment being used at the team's training base at Caversham Lakes fell into disrepair.
Technicians who work on the University's weather observatory offered to clean and service the equipment before reinstalling it this week. The data it provides will allow British Rowing to monitor things like wind speed and water temperature, which can dramatically affect rowing speed.
Professor Andrew Charlton Perez, Professor of Meteorology at the University of Reading, said: "Weather data helps us make sense of events at any given time by offering valuable context. The refurbished equipment will show the GB Rowing Team how much their efforts in training are being aided by elements like the wind, allowing them to adjust times accordingly.
"We hope this work with British Rowing will be the start of a partnership in which University of Reading weather expertise is helping British athletes to achieve success."
The equipment, installed next to the Redgrave Pinsent Rowing Lake, provides up-to-the-minute data on weather conditions like wind speed and direction, air and water temperature, humidity, rainfall and radiation from the sun.
Certain conditions, like favourable wind direction or warmer water, can affect rowing times by up to a minute over a 2km race. It is therefore important to factor them in during training to accurately assess performance levels.
British Rowing has produced Olympic gold medal-winning rowers including Sir Steve Redgrave, Matthew Pinsent, Helen Glover, Heather Stanning, Peter Reed and Alex Gregory, and Paralympic champions like Pam Relph, Rachel Morris and Tom Aggar. Former University of Reading students like double Olympic gold medallists James Cracknell and Alex Gregory, and double Olympic silver medallist Debbie Flood were also part of the GB Rowing Team.
Mark Homer, Head of High Performance Science and Medicine at British Rowing, said: "With the support of the University of Reading, the GB Rowing Team can more accurately measure the effects of weather and climatic changes at Caversham. Not only will this help contextualise our training but will also play a key role in preparing our crews to perform at the highest level in a range of weather conditions and, ultimately, helping to make the boats go faster."
Observations at the University of Reading's weather observatory, on Whiteknights campus, have been made almost continuously since 1901. The site includes a self-contained automatic weather station operated by the Met Office – one of 200 stations in its network that offer a picture of the weather across the UK.
Photo caption: Cahyo Leksmono, IT technician at the University of Reading, and Mark Homer, Head of High Performance Science and Medicine at British Rowing, next to the newly installed weather station next to the Redgrave Pincent Rowing Lake