Mental Health campaigners honoured at Winter Graduation
13 December 2018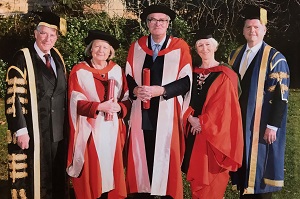 The parents of Charlie Waller who took his life by suicide have been given honorary degrees for their work in depression.
Rt Hon Sir Mark and Lady Rachel Waller, who set up the Charlie Waller Memorial Trust in 1997 to increase awareness about depression among young people, were presented with degrees during the University of Reading's Winter Graduation.
During the ceremony, Professor Shirley Reynolds gave an oratory about the commitment that the Wallers have demonstrated to mental health. Professor Reynolds directs the Charlie Waller Institute which for the last 10 years has been conducting research and providing training to address depression in young people.
In her address introducing Sir Mark and Rachel for their honorary degree, Professor Reynolds praised Rachel and Sir Mark for their "inspirational" role in raising the profile of depression in young people:
"All the parents in this room, myself included, hold in their hearts the fear that harm will come to their children. All of the parents in this room will have a sense of the pain and grief that Sir Mark and Lady Rachel experience. We are here today to honour their success of turning personal heartbreak into a public and professional achievement from which we all benefit."
After receiving their honorary degrees, Sir Mark and Rachel said: "We feel very honoured to have been recognised in this way by the University. Our association with the University, and the success of the Charlie Waller Institute in the training and research it does, has been of great importance to us."
Read more about the University of Reading's campaign to tackle teenage mental health:
https://sites.reading.ac.uk/imagine/project/mental-health/
Find out more about the training and research into evidence-based psychological treatment for teenage depression at the Charlie Waller Institute at:
http://www.reading.ac.uk/charliewaller/cwi-home.aspx
Pictured (left to right): Chancellor Sir William Waldegrave, Rachel Waller, Sir Mark Waller, Professor Shirley Reynolds, Director of the Charlie Waller Institute, Acting Vice-Chancellor Professor Robert Van De Noort