War crimes lawyer given alumni award
14 December 2018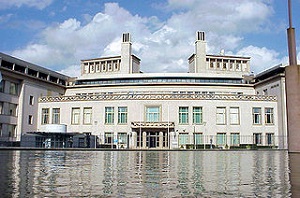 A law graduate who helped prosecute war crimes from the Balkans Wars has been awarded Alumni of the Year.
Dr Rosalynd Roberts, who completed her PhD at the School of Law at the University of Reading in 2011, was recognised at the 2018 Winter Graduations for her role in prosecuting war crimes from the conflict in the former Yugoslavia - including the conviction of Ratko Mladić of crimes including genocide.
During the ceremony, Professor James Green gave a speech outlining the important role that Dr Roberts played in the prosecution of war criminals and reflected on the pride in having supported her legal education and how receiving a scholarship to pursue her PhD was critical in influencing her career path.
James Green, Professor of Public International Law at the University of Reading who supervised Dr Roberts' PhD said:
"It therefore is a huge honour for me to have the opportunity to speak to you today about the contributions made, and that are still being made, by Dr Rosalynd Roberts, in relation to the prosecution of the very worst crimes imaginable, to ensure that they do not go unpunished.
"It is entirely appropriate that the University is today honouring Rosalynd, and recognising the huge significance of the work she has done in the pursuit of justice, and particularly – although far from exclusively – for her contribution to the Mladić case and final judgment."
From June 2011 to December 2017 Rosalynd worked as a Legal Officer supporting judges in Chambers at the International Criminal Tribunal for the former Yugoslavia. The majority of this time was spent assisting the Judges in the case of Prosecutor v. Ratko Mladić, with the judgment delivered in November 2017, just before the closure of the Tribunal.
Since July 2018 Rosalynd has been appointed Legal Adviser on War Crimes and Rule of Law for the OSCE Mission to Bosnia and Herzegovina, where she reports and advises relevant actors on trends observed in the trial of war crimes by the domestic judiciary.
Dr Rosalynd Roberts said:
I am very grateful for the University's recognition of the Tribunal's efforts to achieve justice for the victims of genocide, crimes against humanity, and war crimes committed during the 1990's conflict in the former Yugoslavia. I am honoured to be chosen as "Alumna of the Year 2018" for my contribution towards international criminal justice.
Find out more about options for studying Law at the University of Reading at:
http://www.reading.ac.uk/law/PhD/law-phd.aspx
Image credit: Front view of the International Criminal Tribunal for the Former Yugoslavia, in the Hague, the Netherlands, 2009, ICTY. CC BY 3.0, Photograph provided courtesy of the ICTY.