Vegan milk wins business concept prizes
17 December 2018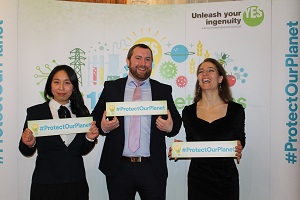 A team of students from the University of Reading have won two GSK-sponsored awards at a recent innovation competition held at the Royal Society.
MooFree from the University of Reading won the Environment YES competition as well as the people's choice award sponsored by Indigo. The company uses genetically engineered yeast to produce dairy proteins. MooFree dairy proteins help businesses provide sustainable, ethical dairy proteins without having to compromise on taste and nutrition unlike any other options currently on the market.
Dr Andrew Goodall, the CMO of the hypothetical MooFree Company and a Postdoctoral Research Fellow in Plant Molecular Biology at the University of Reading said:
"Taking part in YES18 was a fantastic experience and showed us what goes on behind the scenes when commercialising scientific ideas. The transferable skills and knowledge we have gained will be useful in our future careers and are something that we wouldn't have been exposed to without this competition."
Professor Parveen Yaqoob, Pro Vice Chancellor (Research & Innovation), University of Reading said: "We are extremely pleased to support the YES Competition again this year and I am thrilled that our innovative young researchers at the University of Reading have come home with two awards. This outstanding achievement not only reflects our excellence in food and agriculture research but is also testament to the talent that is nurtured through entrepreneurial programmes at the University."
The YES scheme, now in its 23rd year of competition, sees postgraduate student teams compete to create a viable business plan for a hypothetical product that is realistic based on real markets and financial data. The aim is to help students think about entrepreneurial skills needed to take innovative research concepts and create businesses.
Professor Simon Mosey, University of Nottingham and Chair of YES, said: "The 23rd year of YES was the most innovative yet with ideas ranging from dairy free milk to plastics made from food waste. A particular highlight was to welcome seven YES alumni onto the judging panel, making the final at the Royal Society an emotional and inspirational event."
For further information about the YES Competition, see:
http://www.yescompetitions.co.uk/