University's year of progress on sustainability ambitions
19 December 2018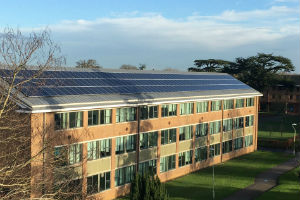 Environmentally friendly investments at the University of Reading in 2018 are expected to save enough water every year to flush 4.6 million toilets or fill 288,000 baths, as well as having brought the number of solar panels on campus to more than 1,000.
The University achieved its highest recycling rate to date this year of 51%, with a 7% year-on-year reduction in waste produced per person. Improved recycling signage shows signs of further improving recycling rates this academic year.
The Sustain It refillable drinks bottle scheme, introduced in partnership with Coca-Cola in 2017, also helped reduce the number of single-use plastic bottles on campus by 150,000 in the last year.
Dan Fernbank, the University of Reading's Energy and Sustainability Manager, said: "We are proud to have made 2018 our most sustainable year ever in some areas, while hitting or even surpassing targets in others. The University is committed to reducing its impact on the environment, and this is demonstrated through continued investment and the kind of innovative schemes that have been successful on our campuses."
Major sustainability investments in 2018 included centralised vacuum and chilled water systems being installed in two large Chemistry teaching labs as part of their wider refurbishment. These are expected to deliver 23 million litres of water savings per year – enough to flush every toilet on Reading's campuses more than 6,500 times.
A total of 535 new solar panels were installed in 2018, on the roofs of Edith Morley on Whiteknights campus and the Windrush building at Greenlands. These generated up to 60% of the energy required to power the buildings this summer.
Extending to the University's low-carbon heating network this year, to cover the Hopkins building and Chemistry research wing, is also targeted to reduce these buildings' carbon footprint by a further 13%.
These initiatives add to other environmental solutions that have seen the University cut its carbon footprint by 37% since 2008/09 and water consumption by 29% since 2011/12. Since 2011, the University's carbon and water management programme has delivered £29 million in cumulative revenue savings.
Some 85% of staff and student journeys to campus are now by sustainable travel methods. This has already exceeded the University's 2022 target for 83%, so a higher target of 87% has now been set.
The University's full annual Environmental Sustainability report is available online here: https://sway.office.com/AqZ4yHVNBEdjSXDt