Students' give thousands of hours to brighten up Reading in 2018
21 December 2018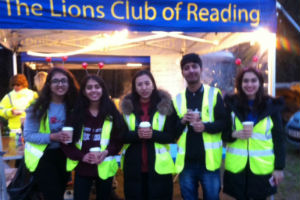 Students at the University of Reading have helped to literally brighten up Reading in 2018 to continue their record of providing thousands of volunteer hours to the community.
Volunteers at the Reading Lions' Firework Spectacular for Bonfire Night this year contributed to the event raising £12,000 for community causes, while the University's Reading Knights Canoe Club recently held a river clean-up to raise awareness of pollution, removing more than 20 bags of rubbish, three shopping trolleys and a bicycle from the Thames and Kennet.
The initiatives are just two examples of around 3,000 hours of volunteer work carried out so far this academic year as part of the University's RED Award – a scheme that recruits students to give their time to improving the community for everyone.
The RED (Reading Experience and Development) Award gives students the chance to earn an Employability Skills Certificate. This helps them make the most of extracurricular activities on offer outside of their studies, to boost their CVs. It is sponsored this year by professional services company Accenture.
Eight students volunteered at the Reading Lions' annual fireworks display, held on 3 November, checking tickets, selling merchandise and providing refreshments to the 7,000 guests on the night. Reading Lions Youth Officer Sarah Kidd-May was pleased they had decided to involve students from the University in the event for the first time this year.
"They were very enthusiastic and it was great to have them," she said. "The Lions always appreciate volunteers and we wouldn't have had the manpower to do all these things without them.
"It's good to have younger blood involved in our events. The students give a slightly different perspective and make us think about things in a different way."
Reading students have also been involved in other Lions initiatives, including a Lions' Den funding event. This saw a panel, including a third year student, listen to pitches from community groups for a share of £6,000 raised by the Lions, to use for local projects. Further fundraising and community improvement events involving students are planned in 2019.
During the 2017/18 academic year, Reading students carried out more than 12,000 hours of volunteer work through the RED Award. Many initiatives are traditionally held towards the end of the academic year, so the current total is expected to rise significantly by next summer.
Nearly 10,000 students have signed up to the scheme since it began in 2010/11, with more than a third going on to complete the award.
Dr Jamie Mackay, Employer Engagement Manager in the University of Reading's Careers and Employability department, said: "I'm really proud to see our student body getting involved in community projects such as these. We have some really talented students at the University, and initiatives like these will allow them to evidence things like a stronger sense of responsibility to employers, who are looking for these transferrable skills right now.
"I have no doubt these activities help strengthen community relationships and act as a reminder that we have an incredibly talented pool of students, hungry to sharpen their teamwork skills and make a contribution to the local area."
Find out more about the University of Reading's RED Award, and read volunteer case studies, here http://student.reading.ac.uk/essentials/careers_and_professional_development/grow/red-award.aspx