US under pressure over Afghanistan - Reading in the news Thu 1 Feb
01 February 2018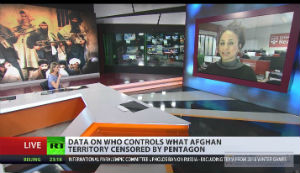 Here's today's round-up of media coverage.
US and Aghanistan: Dr Dina Rezk (History) spoke live on Russia Today about the reports the US is not disclosing how much of Afghanistan is under Taliban control. A transcript of the interview also features in an article on RT.com.
Interview hacks: Metro quotes Graham Philpott (Henley Business School) in a feature on interview tips.
Alzheimer's blood test: Dr Mark Dallas (Pharmacy) was quoted in an article on Mail Online, Reuters, Today Online and Times of India on a new blood test that researchers claim can signal whether someone will develop Alzheimer's disease.
Other coverage
iNews features a public event on violence and women's suffrage, taking place at the National Army Museum this month and involving Dr Jacqui Turner (History), in a round-up of events taking place to mark the centenary of women's suffrage.
Get Reading features the university's International Cocoa Quarantine Centre in a '10 facts about Reading' feature
Reading Chronicle reports on Reading's triple nomination in the Current Archaeology Awards 2018. Read our news story.
Emeritus Professor Brian Scott-Quinn (Henley Business School) spoke to BBC Radio Berkshire (1 hr 26 mins 50 secs) about lessons that can be learnt from the recent collapse of construction services company Carillion.
Computer World UK features a FutureLearn course – Managing People: Engaging Your Workforce – run by the University of Reading in its summary of Best Online Management Courses 2018
Packaging industry website AIPIA reports on the partnership between Coca-Cola and the University of Reading to cut down on plastic bottle waste by introducing refillable bottles and drinks dispensing machines. Read our story.
Research carried out at Reading that suggests drinking champagne could improve memory features on Penobscot Bay Pilot in the US