University teams up with Parliament to mark anniversary of women's suffrage
06 February 2018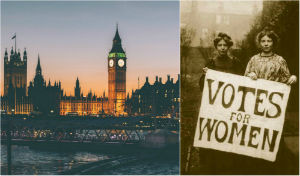 A century after women's voting rights took their first significant step forward, the University of Reading is working with the UK government to mark the milestone.
The Representation of the People Act was granted royal ascent on 6 February 1918, after decades of protests calling for equal voting rights reached a peak in the early 20th century. The Act granted some women and all men the right to vote in political elections.
The University is holding and participating in a number of events to mark 100 years since this piece of legislation was passed, including the Vote 100 commemoration project being run by Parliament.
Dr Jacqui Turner, Lecturer in Modern History at the University, has contributed to a free, interactive public exhibition as part of Vote 100, opening in Westminster Hall in June. 'Voice & Vote' covers the campaign for women's votes and the representation of women in the House of Commons and House of Lords. The exhibition is supported with images from the Nancy Astor papers, which are held in Special Collections at the University of Reading.
In addition, Dr Turner is speaking at an event titled 'Does violence win rights? Militant suffrage and the vote' at the National Army Museum in London on Wednesday 7 February. She is also speaking at an event on Thursday at the University's Whiteknights campus celebrating notable women in history who are relatively unknown.
Dr Turner said: "Winning the vote was a huge milestone in history for women, which paved the way for further progress on gender equality. Although women were not granted the same voting rights as men until 1928, the 1918 Act was a major victory and marked a sea change within politics.
"Just like in 1918, though, there remains work to do before we have a fair and equal society. For this reason, looking back and remembering those that campaigned for change on this anniversary is important if we are to learn and take inspiration to make more progress in the years to come."
A free public dance performance in Reading town centre by professional dance group Reside Dance will also tell the story of the fight for the vote through an alternative medium on 6 February. It will be followed by a discussion about important issues concerning women in Reading today.
Jennifer Christine Stokes, Founder of Reside Dance and Doctoral Researcher in Department of Film, Theatre and Television at the University of Reading, said: "We hope that our event will increase the town's awareness of the women's suffrage movement in the UK and inspire a continued conversation in Reading's year-long events programme, Vote 100: From Suffrage to Citizenship. Through the discussion on 6 February, we hope to give the people of Reading a platform to voice what matters to them now regarding the rights and equality of women and girls, giving them a real opportunity to shape future celebrations and initiate positive action."
Events taking place:
In 2019, Vote 100 becomes Astor 100, as further events involving Dr Turner are held, both locally and nationally, to mark a century since Nancy Astor became the first female MP to take her seat in the House of Commons.