University Internship Scheme offers practical work experience for students and a boost for local businesses
15 February 2018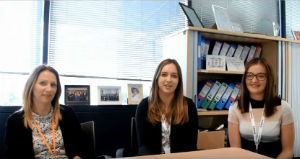 Local companies were recently [30 January] invited to the University of Reading's Whiteknights campus to learn more about how student internships can give their business a boost.
The Reading Internship Scheme, which is now in its fourth year, offers project-based 6-8 week summer internships with local small to medium-sized enterprises (SMEs), providing students with high quality work experience opportunities. Local companies benefit from having some additional resource to help them with a specific project within their business.
The Scheme is run by the Careers Service at the University of Reading, in association with Santander Universities and The Earley Charity, and offers employers support recruiting Reading students into their organisation. The scheme also offers grants to host employers to support with salary costs.
As part of the Scheme, students are provided with pre-placement training and are visited during their placement. At the end, they submit a conference-style poster, giving them the opportunity to reflect on their experience.
Jonathan Bainbridge, Business Development and Employer Engagement Manager at University of Reading, said: "More employers than ever are looking for graduates with work experience. We want our students to be successful after they leave university so it is important to offer them the opportunity to get some real-world experience before they enter the job market. This is one of the many ways in which the Careers service supports students to secure work experience during their time at Reading.
"The Reading Internship Scheme has been a great success to date, not only for our students but for the employers they've supported - demonstrating the important link between the town, and the wider Thames Valley, with the University. We placed 66 students into internships last summer and are aiming to place 100 in 2018, having secured additional staffing resource to support this. We are currently looking for more SMEs to offer meaningful summer internships that offer students a genuine learning experience - to find out more please get in touch."
Kieran Martin, a second year Philosophy student has participated in the Scheme, interning as a data analyst at London-based insurance company Ambant. Speaking of his internship he said: "I have gained valuable experience while working at Ambant. I improved my Excel skills and the internship helped me gain a network of contacts within the insurance industry which I hope will prove useful after I finish university. I would say if you are thinking of a summer internship, that you should definitely do it, as you gain so much from it."
Kate Shelley, Director and Founder of Tales Toolkit, who has had Reading interns working for her, said: 'This is my second year of Reading interns and they are extremely high quality. I recommend the University to others for excellent, proactive, enthusiastic and highly skilled students.'
Employers are now invited to submit internship proposals to the Careers team. To find out more please click here.