University of Reading appoints first ever job-share members to the University Executive Board
19 February 2018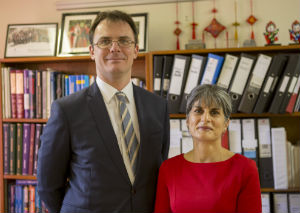 For the first time ever, the University of Reading has appointed two new members to the University Executive Board (UEB) in a job-share role.
Professors Parveen Yaqoob and Dominik Zaum will join the Board as the University's new Pro-Vice-Chancellors for Research and Innovation. In addition to shaping the University's research strategy, leading the submission for the next Research Excellence Framework (REF) in 2021 and developing further research links with industry, they will be an integral part of the day-to-day leadership and management of the University.
While job-share arrangements are common in higher education, including at senior levels, this is thought to be the first such board appointment within a UK university.
Professor Yaqoob currently heads the School of Chemistry, Food and Pharmacy at the University of Reading, while Professor Zaum is the Research Dean for Prosperity and Resilience, also at Reading. Each bring their own areas of expertise to the role, broadening the research strength behind the appointments.
They will start in their new role in a job-sharing capacity on 1 August 2018 and will serve in office for a term of six years.
Sir David Bell, Vice-Chancellor, said: "We set out to recruit the best candidate, or candidates, and I am delighted that in Parveen and Dominik, we have two excellent colleagues to take up the role of Pro-Vice-Chancellor Research and Innovation. Both are dynamic and able leaders who understand the University well. They will provide excellent leadership in research and innovation, as well as make a powerful contribution to the University Executive Board."
First UEB job-share
The University of Reading is committed to having a diverse and inclusive workforce, is a Stonewall Diversity and Global Diversity Champion and holds an Athena SWAN bronze award. This month, the University also received its highest ever ranking in the Stonewall Workplace Equality Index (WEI) 2018. Applications for job-share, part-time and flexible working arrangements for this new position on the Executive Board were welcomed.
Professors Yaqoob and Zaum said they were delighted to be part of a pioneering job-share partnership. "This job-share will allow us to provide joint strategic leadership in research, whilst maintaining our individual research profiles," they said. "We look forward to working with the Research Deans, Research Division Leaders, and our professional research support towards a strong REF submission in 2021 and to jointly lead the University's engagement with a changing research and innovation landscape."
Promoting diversity and inclusion
Whilst this is the first board-level job-share, this is not the first senior job-share within the University of Reading. In July 2015, Professors Ellie Highwood and Simon Chandler-Wilde were jointly appointed to the position of Dean for Diversity and Inclusion.
Speaking at the time of the appointment, Professor Robert Van de Noort, Pro-Vice-Chancellor for Academic Planning and Resource, said: "This appointment signals a step change in the University's engagement with all matters related to our equality agenda. Furthermore, by job-sharing this new senior position, Ellie and Simon are setting an example of a new style of leadership that we will wish to promote for our future."
As part of their work, Professors Highwood and Chandler-Wilde have been actively promoting the benefits and opportunities for flexible working within the University. One such example of this is the Faces of Reading website, which was set up to profile staff members who hold a wide variety of different roles across the University, operate across a broad spectrum of working arrangements, and hail from a richly diverse range of backgrounds.
Experienced academics
Professor Parveen Yaqoob has been working in the area of diet, immunity and inflammation for 27 years.
Graduating with a BA in Physiological Sciences and a DPhil in Biochemistry from the University of Oxford, she worked briefly at the Institute of Human Nutrition at the University of Southampton, before joining us as a Lecturer in Nutrition in 1998.
She has a particular interest in the effects of dietary fatty acids and pre- and probiotics on immune function and in the effects of dietary fatty acids on inflammation and vascular function in the context of cardiovascular disease. She is currently a member of the Steering Group of the BBSRC's Diet and Health Research Industry Club and a Fellow of the Association for Nutrition.
Professor Dominik Zaum specialises in governance, conflict and security. Following a BA in Politics, Philosophy, and Economics (2000) and an MPhil in International Relations (2002), he completed his DPhil in International Relations at the University of Oxford in 2005.
He took up a Rose Research Fellow in International Relations at Lady Margaret Hall, Oxford, in 2004, and joined our Department of Politics and International Relations in 2006.
Dominik served as Head of the School of Politics, Economics, and International Relations from 2014 to 2015. From 2011 to 2015, he was a Senior Research Fellow in Conflict and Fragility at the UK's Department for International Development (DFID).
The current Pro-Vice-Chancellor for Research and Innovation is Professor Steve Mithen, who is stepping down after completing his two full terms as a pro-vice-chancellor at Reading.