Super rat invasion and language of plants - Reading in the News Mon 19 Feb
19 February 2018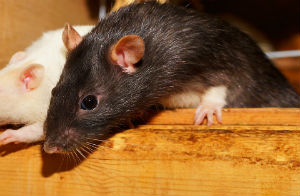 Here is today's media coverage round-up.
Poison-resistant rats: Rats discovered in southern England by University of Reading scientists (Biological Sciences), which are resistant to some rodenticides. are the focus of news articles in the Mirror, MSN, Reading Chronicle, Shropshire Star, Natural News in the US and Seehua in Malaysia.
Oscar Wilde exhibition: Get Reading previews an upcoming Oscar Wilde exhibition being organised by Peter Stoneley (English Literature), which focuses on a poem written by Wilde about his time at Reading Prison. Read our blog on Wilde's 'love poem'.
Food innovation competition: Reading's winning team in the Ecotrophelia UK competition are mentioned in a Cost Sector Catering article on the competition returning for 2018. Read our news story about the low calorie sushi created by Reading students last year, which went on to scoop second prize in the international finals.
Language of plants: Dr Robbie Girling (Agri-Environment) was interviewed for a New Scientist feature on how pollution is affecting the scents given off by plants, which in turn impacts on insects and pollination.
Other coverage