Vice-Chancellor, union members and students on UCU strikes - Reading in the news Thu 22 Feb
22 February 2018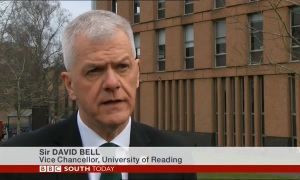 Here is today's media report.
UCU strikes: Coverage of the industrial action by members of the University and College Union (UCU) continues, with BBC South (10 mins 14 secs) interviewing UCU Reading rep Sally Pellow, students petitioning for refunds on tuition fees due to loss of teaching time and the Vice-Chancellor Sir David Bell ahead of the first day of strikes. BBC Radio Berkshire (1 hr 10 mins 25 secs) and The Breeze FM also reported on the strikes getting under way. BBC News Online mentions information on the potential consequences of strike action being provided to staff by University of Reading and City University, London. A Telegraph article on staff being given this advice has now been updated to include a statement from Reading. Read more information about the strikes for staff published by the University of Reading.
Talking trees: Research led by Dr Brian Pickles (Biological Sciences) into the relationship between trees and how they interact features in an article in Smithsonian Magazine exploring whether plants can communicate with one another.
AI exploitation: Dr Richard Mitchell (Computer Science) digested a new report on how increasing use of artificial intelligence could be exploited by terrorists or rogue states on BBC Radio Berkshire (40 mins 46 secs).
Other coverage
Dr Gunter Kuhnle (Food and Nutritional Sciences) featured in an episode of Food Unwrapped repeated on More 4 this week
Dr Kuhnle provides some context in a Cetus News article on a study that suggests red wine could be good for mouth hygiene
Professor Ed Hawkins (Meteorology) is quoted in a Colombian Post article on how global warming may hit poorer countries harder
Food Matters Live previews this year's Ecotrophelia competition on its website. Last year's UK competition was won by University of Reading students, who went on to win silver prize in the European Finals. Read our news story
Professor Mark Pagel (Biological Sciences) is quoted in a The Bulletin article on whether animals can count, explaining how words to represent numbers evolved over time