The future of food under discussion at Reading
23 February 2018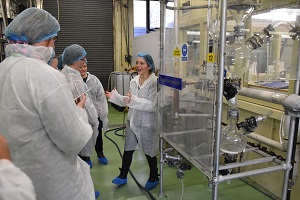 Europe's leading food companies and researchers are meeting in Reading this week as part of a European research scheme of more than £1bn (€1.6bn).
Some of the food industry's leading companies, universities, and scientific partners from across Europe are in Reading (21-23 February) to discuss innovative new projects designed to change how we produce and eat food.
The projects are being discussed at a conference run by the European Institute of Innovation and Technology (EIT) Food, in collaboration with the University of Reading,
Members of the EIT Food group are aiming to develop a range of initiatives designed to put Europe at the centre of a global revolution in food innovation and production, and its value in society. EIT Food will engage consumers in the change process, improve nutrition and make the food system more resource-efficient, secure, transparent and trusted. Spread over seven years, the partners will invest close to €1.2 billion matched with up to €400 million financed by the EIT.
Across two days, food sector representatives will discuss the development of new projects in the area of education, innovation, business creation and consumer outreach. They will also visit the food research facilities at the University of Reading, touring facilities and meeting leading Reading academics who are exploring topics as diverse as turning food waste into fuel, and making healthier dairy products.
Margaret Bath, CEO of EIT Food:
"Co-creation and Co-commercialisation among a variety of different partners with complementary skills - while always keeping the consumer top of mind - is key to drive transformation across the entire food system."
"Today, at our annual partner meeting, new ideas will be further explored and developed between our partners. EIT Food has the potential to serve as a strong catalyst for positive change by accelerating technology discovery and innovation that meets the needs of the consumers we serve."
Professor Steve Mithen, Deputy Vice Chancellor and Pro-Vice-Chancellor for Research and Innovation at the University of Reading, said:
"It is an honour to host Europe's most distinguished food professionals at the University of Reading. Our food system is increasingly connected across borders and requires close collaboration between researchers and industry to solve problems linked to poor diet and health.
"The University of Reading has a long history of successful engagement with the food industry, and we look forward to helping solve some of the biggest problems facing the food sector."
The University of Reading hosted a third day in addition to the conference at its campuses and research farms, after two days of meetings in Reading for project partners.
Reading academics are already closely involved with 14 projects funded through EIT Food, including:
Reducing the saturated fat and carbon footprint of dairy products,

Providing free educational resources on 'superfoods'

Creating sugar-reduced biscuits and cakes that don't compromise on flavor or texture
<!--[if !supportLists]-->

Further information about the University of Reading's role in EIT Food is available at:
https://www.reading.ac.uk/news-and-events/releases/PR706861.aspx