Whiteknights nightclub 3Sixty set for £2.9m refurbishment
23 February 2018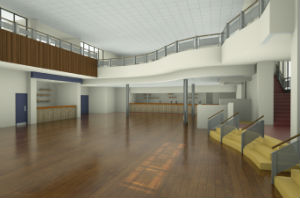 A proposed refurbishment of the 3Sixty nightclub on the University of Reading's Whiteknights campus is set to bring upgrades in audio and visual equipment, accessibility and décor.
The project, funded by the University but steered by Reading University Students' Union (RUSU), will invest almost £2.9m into improving the venue.
Although the project is funded through the University's 2026: TRANSFORM capital investment programme, students have been involved in drawing up the designs from the beginning.
Subject to planning permission being granted, work is due to start in late March, after the end of the spring term, and is due for completion by the start of the next academic year.
The nature of the work taking place means that 3Sixty will close during the refurbishment. However, Mojo's Bar, Café Mondial and Monterey Lounge will all remain open and will host many of the events already planned for the summer, including regular Wednesday and Saturday Union nights. The Graduation Ball on 18 May and Summer Ball on 9 June will both go ahead as planned.
Details of upcoming RUSU events are available on RUSU's events page and 2018 events calendar.
Tristan Spencer, President of RUSU, said: "We are delighted to be developing our nightclub for the benefit of our membership. We look forward to opening an improved area next academic year, which will provide students with a better club experience, more function space for our sports/societies, and improved access and safety."