Beast from the East, Mary Beard, and one ring to rule them all! Reading in the News - 27 Feb
27 February 2018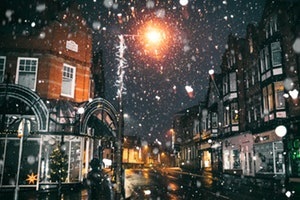 Beast from the East: Sky News spoke to Dr Laura Wilcox (Met) about the cold weather that Europe is currently experiencing, and a period of arctic warming that has been the cause.
Diverse Roman Britain: Dr Hella Eckardt appeared on BBC Four's Mary Beard's Ultimate Rome: Empire Without Limit talking about her work looking at diversity among Romans living in Britain.
One ring to rule them all?: Prof Mike Fulford spoke to BBC Radio Berkshire (1hr 20 mins in) about a ring that was discovered by a farmer near Silchester in the 18th century that may have inspired the Lord of the Rings.
Other coverage
Dr Vimal Karani (ICMR) spoke to BBC Berkshire (approx. 47 mins in) about a series of studies on genetics and how a healthy diet can protect against the risk of certain cardiovascular diseases. Read our news story here.
Further coverage of a Conversation article on absolutist language that might be a way to spot people with depression, in the Times of Malta.
<!--[if !supportLists]-->